D

A

N

K

D

O

N

U

T

S
The Real Breakfast of Champions
A Note From the Owners:
Sitting at 6857 ft closer to heaven, Dank Donuts is the HIGHEST Donut Shop on the West Coast.
DANK can mean a lot of things…
But to us, DANK is a way to say –
Highest Quality. Purity. Perfection.
Sprinkled with Love.
The new "Umami.'
DANK is an adjective to describe what comes out of our kitchen.
DANK describes our friendly Donuteers.
DANK is every customer who walks through the door.
DANK is DANK DONUTS!
Located at 42612 Moonridge Rd Big Bear Lake, CA 92315
Find a Cabin To Contact Dank Donuts Call:

(909)547-6053
At Dank Donuts, no two donuts are the same. The Donuteers hand make the donuts, and infuse love into each bundle of dough. They make traditional yeast-risen, golden-fried classics with recipes passed down from Old School Donuteers. On top of the traditional Donuts we all crave, they also have Vegan, and Gluten-Free donuts options!  Beyond just donuts, they have breakfast burritos with homemade salsa, stuffed croissants made fresh every morning, and delicious lunch items all available QUICK and TO-GO. They stock a variety of beverages, including BEER and WINE you can take TO-GO! In an effort to keep everything fresh, availability on these items change so call to make sure they have your favorites or go in and try something Dank!
WHY DANK?
 Dank Donuts has been in the making for a long time. It started as a silly idea… "Wouldn't it be 'DANK' to open up a Donut Shop?"
So, we started making donuts out of our home kitchen and bringing them to everyone we know.
The unanimous answer has always been,
"These are DANK!"
So, we FINALLY opened up a DANK DONUT SHOP on November 17th, 2018!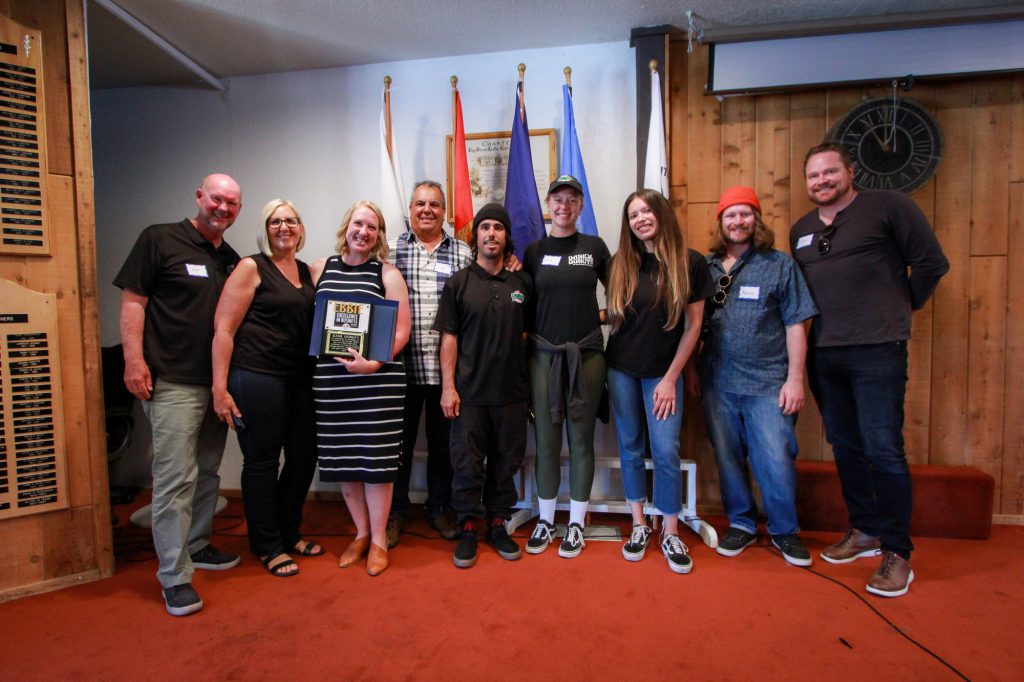 DANK DONUTS NEWS!
Pictured: The Dank Donuts Team being awarded the Excellence in Business Award presented by the Big Bear Chamber of Commerce Ebbie Award Ceremony 2022! Posed with Destination Big Bear's own General Manager Evan Engle who is on the Board of Directors at the Big Bear Chamber of Commerce.
Other Featured Businesses