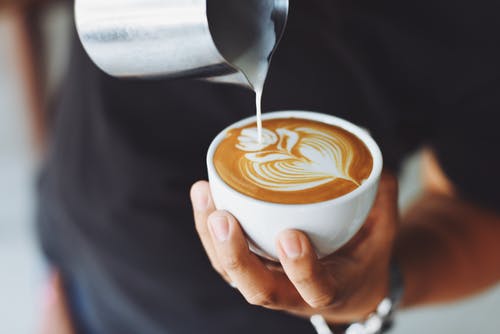 Almost everyone now can't make it through their morning, or their day at all for that matter, without their beloved cup of coffee. You probably have your favorite place to go while at home, but even on vacation, you can find that perfect cup of liquid sanity and serenity to tackle the day. Your trip to Big Bear is no exception to that. To help alleviate the stress of deciding where to go, we've comprised a list for you of Big Bear's Top 5 Local Coffee Shops! We've even added links to their online options for you…
Moonridge Coffee Company – This cozy coffee shop is located right off of Moonridge Rd, you can't miss it's cute and cozy log cabin style shop front. Owners Laura P. and Germany W. became proud owners of Moonridge Coffee Company about a year ago, but this great shop has been in business serving up delicious coffee for 5 years! The coffee beans come from Sisters Oregon and the food/pastries are all made to order from scratch in-house daily! If you have time to spare and stay at the coffee shop to enjoy your drink and food, you'll find a fireplace and piano on the main level for comfort and cozy seating upstairs for a more intimate experience. If you do happen to be a local and wanting to try this coffee shop, they offer a local's discount on Mondays and Fridays! Be sure to check them out online as well through their facebook or instagram @moonridgecoffee
Copper Q – Linda R. is the proud owner of Copper Q, and rightfully so! This great coffee shop has been in business for 10 years, found in the highly popular and well-loved Big Bear Village! Copper Q not only provides you with your daily coffee, but is simultaneously giving back to families right here in Big Bear, CA. For every pound of coffee beans that Copper Q buys from their supplier, Wild Goose Coffee, 20 pounds of food is donated to a local Big Bear food pantry! Coffee isn't all they have to offer though! They're proud to also be able to offer soups and pastries made from scratch daily, vegetarian and vegan options, espresso bar, upscale kitchen and retail store, and MORE! You'll have to stop in and see all that Copper Q has to offer you! Make sure you check them out online as well through their facebook , twitter , and instagram @thecopperq
Big Bear Coffee Roasting Company – When it comes to coffee, these guys know what they're doing! They've been Big Bear Lake's coffee roaster since 1993! It's more than just coffee to them, it's an art. Here is how they like to describe the art of roasting coffee:
"Once the green coffee arrives at Big Bear Coffee Roasting facility, it is up to the BBCRC roaster to bring out the complex flavors and aromas. Our goal is to best represent what the grower had in mind while tending to the coffee shrubs. Because each sack of green coffee may respond differently in our Diedrich Roaster, we are constantly evaluating the quality of our roasted coffee. We experiment with and explore each new arrival, searching for that bean's optimal finish temperature and roast time. Simply, there is not a "one size fits all" solution to roasting coffee, our Diedrich Roaster is not automated and we do not use profiling software."
This great shop is conveniently located right off of the boulevard at 41080 Big Bear Blvd. Make sure you check out their facebook to stay up to date with them or visit their website!
The Tea & Coffee Exchange – This great location was opened in 2012 and has been a great asset to Big Bear ever since! The Tea & Coffee Exchange provides you with a wide variety of options to choose from with 105 teas and a full coffee bar, along with fan favorites like hot chocolate and Caramel Macchiatos. But if you thought that was good, they also provide crepes, paninis, and bakery items! Find out more about them by visiting their facebook page!
Frusion – Look no further for drink variety options! Not only is Frusion serving up great coffee, but they also provie juice, smoothies, nitro coffee, and blended frozen coffee drinks! They also provide acai and pitaya bowls, salads, and kombucha on tap! What else could you need? It's a little bit of everything, for everyone! Coffee for you, and juice or smoothie for the little ones in your group! They're brand-new to Big Bear and located right in the Big Bear Village, so be sure to stop by when doing your shopping and exploring through The Village! You can also check out their facebook page for updates.