Ardent Oso Chocolate Experiences and Education
Enjoy chocolate like never before in Big Bear Lake with Ardent Oso Chocolate Experiences and Education! Private in-home sessions available! They offer an array of chocolate-related experiences and services around Big Bear and beyond, including large private events, a curated selection of single-origin tastings, comprehensive farm-to-bar education, and hands-on chocolate making classes. Specializing in small private group tastings, corporate events, weddings, holiday parties, and private residential parties, Ardent Oso works with you in providing a level of customization that tailors to your specific event needs, creating an unparalleled novel, memorable, and dynamic experience. Led by Ryan, an expert chocolate maker – who has developed award-winning chocolate and has been in the chocolate industry since 2013 – there's nothing else around like an Ardent Oso!
Rent your cabin and hire Ardent Oso in advance to experience this fun, new, Big Bear activity!
Find a Cabin
Check out more Unique Big Bear Experiences Here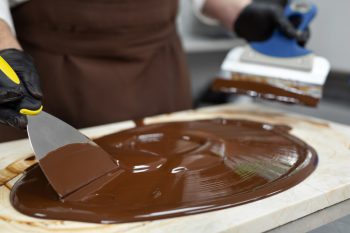 Expert Chocolate Maker, Ryan, takes you through the chocolate making process to give you a whole new perspective of chocolate. hire him for a private session and here's what to expect!
What are Ardent Oso customers saying?
"My bridal party surprised me with a chocolate making class during my bachelorette party in Big Bear and it was the perfect addition to the weekend! It was such a unique experience, and everyone loved being able to take home a chocolate souvenir to enjoy after the weekend was over!" Jodi S.
This personalized private class is where the theory and practice of making chocolate converge.
Includes:
Chocolate making with a modular mobile chocolate making lab

In-depth chocolate making instruction & chocolate making theory

Chocolate making demo

Single-origin nib selection of two origins

Tempering & wrapping your bar(s) to take home

Chocolate tasting

Take-home bar(s)

Fresh cacao pod upon availability
Duration: 180 minutes
Find more Chocolate Experiences & Explore Classes ONLINE now!