The Village Sweet Shoppe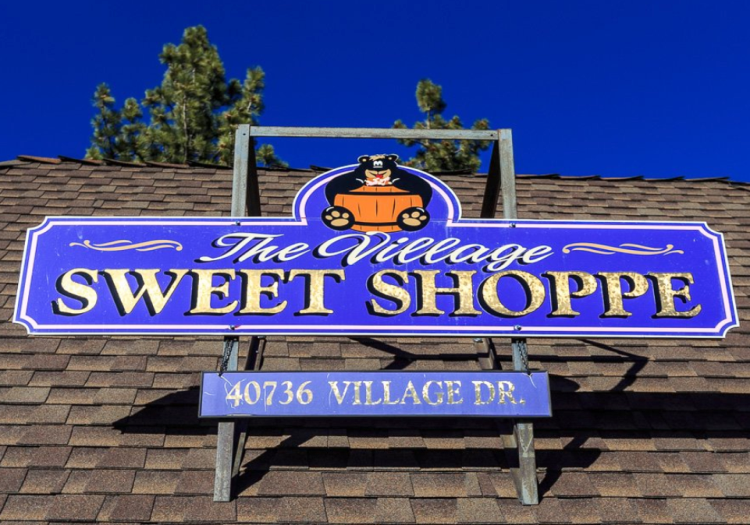 When your sweet tooth needs attention, satisfy it with a stop by The Village Sweet Shoppe! They have everything from Jelly Belly's, taffy,, chocolates, novelties, gelato, soda and more!
Jin: They have some cute chairs in front of their store that look like jelly hands. I saw young children wanted to sit there. The store has a bunch of candies. It felt like I was in the candy house! Also, they have gelato, can-dies and animal dolls. If you have a child, you will be obliged to buy some candy. Enjoy Big Bear's candy house!
Amy: This is a must stop store when you are in the village! They have salt water taffy, gelato, jelly beans and all kinds of candy. In the back of the store is where they have all of the chocolate selections. This store brings back your memories. Do you miss the candy which you had when you were younger? Are you craving for something sweet? Check this place out and have all sorts of sweets!
Destination Big Bear is excited to provide the opportunity of living in Big Bear Lake to international interns who are looking for a variety of experiences. Working at Destination Big Bear provides a platform for enhancing English language skills, business operation and marketing. The students work side-by-side with employees developing personal and professional skills. But it's not all about work. Big Bear Lake is a beautiful area to explore, whether it's relaxing on the lake shore, strolling through The Village, or seeking out adventure on the slopes or mountain bike trails. Here are some of our favorite Visitor Experiences straight from our fabulous interns themselves.