Grey Squirrel Resort in Big Bear
The Grey Squirrel Resort offers rustic cabins in Big Bear, California. Family-friendly and pet friendly or couples accommodations are perfect for a variety of guests seeking to escape the daily grind while being connected by proximity. The resort is located just far enough out where you can find peace yet close enough so it's still easy to explore great attractions nearby including Hiking, Biking, Fishing and a short drive to both Ski resorts! The Gray Squirrel Resort also features various amenities such as Jacuzzis, pool tables, and more. Perfect for families, couples, and pets. Escape the grind and stay connected. We hope their unique getaway will be one that lasts on your memories as we forge bonds with each guest during they stay at Grey Squirrel Resorts.
Rustic Weddings in Big Bear
If you're looking for a romantic place to get married, Big Bear is the perfect location. It's quiet and serene with beautiful scenery that will make your day even more special. Big Bear is great especially if you're looking for a rustic wedding. Unfortunately, we cannot host weddings at any of our cabins. However, Grey Wolf Resort is an excellent venue for your wedding. They have excellent packages starting at $3,800. They also offer event planning as well!
Smaller Cabins in Big Bear Lake
If you're looking for a cabin that's small, cute and charming, check out the Honey Moon Cottage. Come spend your honeymoon or anniversary in their Honeymoon Cottage. Located on the ground floor of a tri-plex, this suite features its own 2 person spa and wood burning fireplace right next to a comfy queen size bed with 3/4 bath nearby! You'll also get free wifi access from inside so don't worry about missing anything while you're cozy by the fire!
Events
If you love to go out and see live music. One of our favorite places is Grey Squirrel Resort in Big Bear Lake CA because they have cover bands as well as local artists.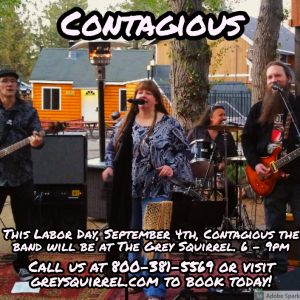 Enjoy Big Bear's magic while creating unforgettable memories at Grey Squirrel Resort.
39372 Big Bear Bvld
Big Bear Lake, California 92315
Phone: 800-381-5569