Things To Do in Big Bear During The Fall
The leaves are changing colors, the weather is cooling down and pumpkin spice is now a food group. Fall is here in Big Bear and if you haven't experienced our beautiful mountain town during this season, now is your chance! There are very few places in the Big Bear Valley where you can experience the true beauty of fall and Big Bear is one of the best. The forest comes alive, bursting with colors of red, yellow, and orange and the crisp mountain air makes sweater weather actually possible here in California. There's so much to love about Big Bear during the fall, including all of the amazing festive activities you can enjoy. Here are all the things that you won't want to miss out on during your fall trip to Big Bear.
Find a CabinFall Colors
There are so many great ways to view the fall colors in Big Bear. Get a closer look at nature and the spectacular scenery on a hike through the San Bernardino National Forest. Make sure you stop by the Big Bear Visitor Center to find out where the best areas to see the blooming colors are. There are many trails to choose from ranging from easy beginner trails to more challenging and advanced trails. No matter what trail you choose, the fall sights will be absolutely breathtaking. Segway tours are also available to view the fall colors. Tour guides will take you through the Village and surrounding areas and is faster than a hike. Other ways to view the incredible colors of fall are from high above the trees in a helicopter! Viewing the mountain from the vantage point of a helicopter will be unlike anything you've ever experienced. Don't forget to bring your camera to capture all the spectacular sights and colors that Big Bear has to offer during the fall.
Explore Hiking & Biking Trails in Big Bear
Explore Parks and Picnic Areas in Big Bear
Thanksgiving in Big Bear Lake
Pumpkin Smash with Action Zipline

This is an interesting and thrilling fall experience that is so fun it can quickly turn into a tradition that you and your family come back to do every fall! Zipline Action Adventures hosts a festive zip-lining experience every Saturday in October for the 11am and 1pm tours. Grab your helmet and some courage and speed down a zipline carrying a pumpkin. On your way down try throwing the pumpkin at multiple strategically placed targets and win prizes for the targets you hit! The zip-lining experience is a fun family-friendly fall activity and a great way to view the Big Bear scenery while flying through the trees. When you stay with Destination Big Bear you receive an exclusive offer of 10% off when you book your zip-lining experience online at https://actiontourscalifornia.com.
Oktoberfest Fall Festival

Another festivity that is a must-see when visiting Big Bear in the fall is Oktoberfest! Beginning on September 11th, Oktoberfest kicks off 50+ years of German Tradition here in Big Bear. Delicious food, ice cold beer and live entertainment are what Oktoberfest is known for. Witness some crazy competition such as the queen stein carrying contest which allows Oktoberfest queens a chance at the title by lifting a record amount of steins full of beer. Other competitions are drinking contests and log sawing contests. Grab your tickets online at https://bigbearevents.com/oktoberfest/. Many options for dates are available since the event runs through September, October and ends on November 7th. Certain weekends in September and November offer free admission for America's heroes including Veterans, Active Military, Law Enforcement and Firefighters. Immediate family members also receive general admission tickets at a discounted rate of $10.
Things To Do in Downtown This Fall
All activities and businesses below are featured on our blog page based off of their relevance to Fall Activities in Big Bear.
If you would like your business featured, please reach out to marketing@destinationbigbear.com
Mountain Room Escapes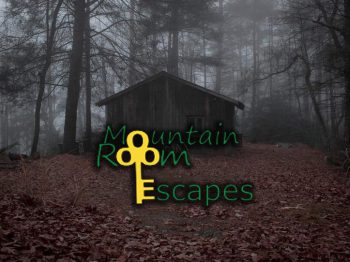 Imagine that you and your friends are walking through the woods and you come across an abandoned cabin. It looks creepy, but curiosity gets the best of you and you walk inside. As soon as you enter, the door locks and you're trapped. Can you figure out how to escape before who or what trapped you comes back? This themed escape room is perfect for people who love the challenge of a difficult puzzle. A super fun activity for all ages in Fall with spooky themes and Halloween Specials to come!
Book A Mountain Room Escape Now
Get Creative This Fall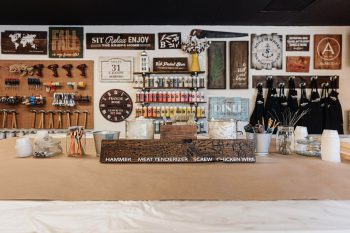 Instead of do-it-yourself, do-it-together! Board & Brush Big Bear Lake offers inspiring DIY workshops for people who love to create and connect. Their Studio allows you to create a personalized wood project, while having a few drinks and hanging out with friends and family in a fun, energetic atmosphere. They supply the raw wood and classic designs that will enable you to create a custom DIY piece for your home that you're sure to love! Board & Brush Big Bear Lake also offers a wide variety of hands-on, private experiences from workshops, private parties, bridal showers, bachelorette gatherings, birthday bashes, corporate events, and fundraisers.
DIY Creative Studio Board & Brush
Alpine Slide at Magic Mountain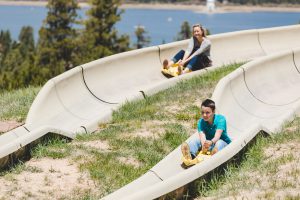 You've been down the thrilling Alpine Slides in the winter, get ready to experience the thrill in the summer! Start out with taking a scenic chair lift ride to the top where you start your exciting ride down! The snow-filled fun in the winter is transformed into water-filled fun in the summer! Take your pick from two quarter-mile-long cement tracks filled with flowing water and take on the turns and straight stretches! You can choose to go at the speed of your choice by control the hand brake on each individual sled. There are minimum height restrictions and tickets required.
Fall Off-Roading Adventures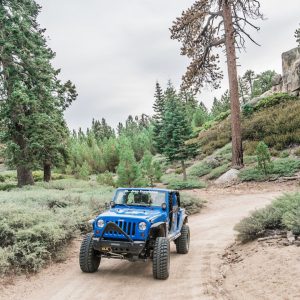 See the scenery of Big Bear mountains in a whole new way when taking part in the exciting off-roading options! While some people may think hiking and biking when they hear the word trails, a lot of Big Bear visitors think of the mud-flying and adrenaline rushing off-road driving trails! With this being such a popular activity and knowing that not everyone may have the proper off-roading "toys", there are options provided to still partake in the fun! Book a tour with Big Bear Jeep Experience! Personally drive one of their Jeeps while following the guide jeep, with communication between vehicles on a two-way radio. The guide will announce different historical spots along the way as well as stop at scenic locations, so be sure to bring your photo and video equipment! You can find more on their offers here.
Alpine Zoo
One thing you can't miss doing is visiting the Alpine Zoo. Our zoo is used as a rehabilitation facility.
Here, animals that are injured, orphaned, or have other concerns are treated and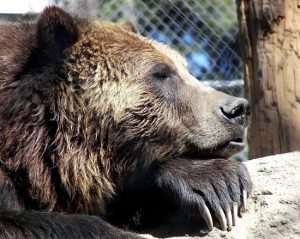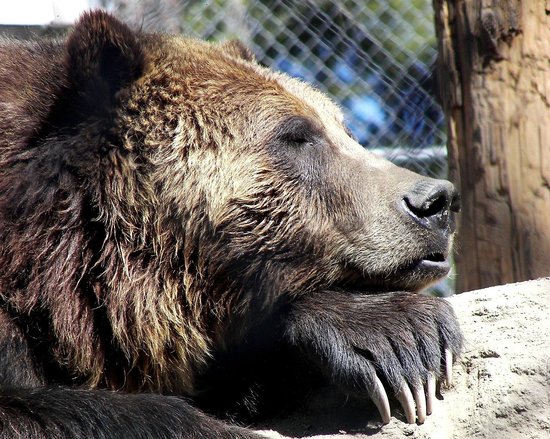 helped in their process of returning to the wild if and when they are able to. 90% of their animals are able to be released back into the wild. The zoo opened in 1959 after a wildfire raged through the San Bernardino Forests and was able to provide a safe haven for injured animals to recover and heal for a second chance at life in the wilderness. They currently represent over 85 species! The zoo offers many programs and activities where you can learn from the zookeepers and have not only a fun experience but a knowledgeable one as well.
The Village
Big Bear's Village is THE place to go for shopping and dining. Park in one of the free public parking
lots and enjoy the weather by walking through The Village and going shop to shop.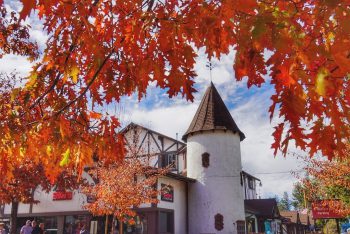 Start your day in The Village with breakfast at the well known Teddy Bear Restaurant, or maybe get lunch between hitting the shops at Fire Rock, end out your day with a delicious meal and craft brews at The Brewery. Your options are endless. There's an option for eating or shopping at every corner. Don't forget to pick up your Big Bear memorabilia at one of the great gift shops and take home a piece of Big Bear with you.
Cozy Big Bear Fall Cabins
After your long day of fall festivities, come back and relax in your very own private cabin nestled in the Big Bear mountains. Nothing feels more like fall than a hot cup of apple cider by a roaring fireplace and a spectacular view of the falling leaves right from the comfort of your cabin living room. Open up the windows and let the crisp mountain air fill the room while you listen to the calming sounds of the mountain at night. Destination Big Bear has many different cabins to fit any budget and need. Some hidden in the trees and others closer to the Village and the lake. If your bringing your furry friend along, no worries! We have pet friendly cabins as well. Start by taking a look at our cabins options online to view the homes available for the dates you desire or call one of our vacation specialists at 909-752-0234 to help plan your favorite fall getaway. Don't forget to ask about the exclusive promotions you gain access to when staying with Destination Big Bear!
Click Here for an Interactive Map to see where your favorite Fall Big Bear attractions are and pick the best cabin stay for you!
Find a Cabin
Check out here for information on Big Bear Queen Lake Tours