Bear Valley Bikes
Just west of Big Bear Village, you will find a great bike shop Bear Valley Bikes. Big Bear and the San Bernardino National Forest, along with Snow Summit is a perfect destination for Big Bear mountain activities.
Bear Valley Bikes is a small spaced bike shop is loaded with all kinds of bike accessories that the mountain bike enthusiast or road bike rider could need. Bikes hang from the rafters surrounded by championship jersey's worn by competitors, and friendly workers cram into a tight space building new bikes for a great bike shop in Big Bear. This bike shop is so much more than just bikes and accessories and it is part of Big Bear history. This bike shop.. Awesome!
Greeted by one of the friendliest people you will ever met, it's the owner of the shop, Derek Hermon who happens to be a Pro racer for mountain and road bikes, and a Licensed coach and UCI Licensed mechanic. What impressed us the most was how much Derek Hermon cares about you and what you are doing this weekend for a bike ride in Big Bear.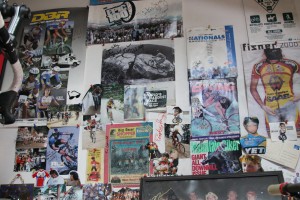 Derek say's "It's all about the ride" offering free local maps of trails to hit while you are spending time at your Big Bear cabin rental. The local knowledge he provides is priceless.
If you did not bring your bike with you, Bear Valley Bikes has a great selection of high performance bikes that you can rent for an hour or all day to explore Big Bear Lake. All rentals come with a safety helmet. Repairs, tune ups, new bike sales, and so much more you can get. You can feel the passion that each and every employee has for biking. It is a real treat to stop by and check out this bike shop in Big Bear.
I forgot to mention – they usually have a grilled fired up on the weekends giving away free hot dogs and burgers.  If you are in a Big Bear cabin rental or just up the mountain for a day of riding, this is one place you have to visit while in Big Bear.
To book your Destination Big Bear Cabin Rental, call (909) 752-0234.  Destination Big Bear has cabins conveniently located near Bear Mountain Golf Course, Snow Summit, Big Bear Mountain, Big Bear Village, and Big Bear Lake.  We have cabins for every budget from cheap cabin rentals to luxury cabin rentals. Ask about pet friendly cabins and activities to do in Big Bear Lake.