Boating & Fishing in Big Bear Lake – A Handy Guide
Whether you are an experienced angler, casting your line into the water for the first time, or just want to have fun on a boat rental or jet ski, Big Bear Lake is the perfect getaway for all your summer fun! Here is our handy guide to boating and fishing in Big Bear Lake.
Do you need to to rent a cabin? Do you need your own dock? Let our vacation experts know what type of boat you have so we can get you into the perfect cabin for your summer fun. Call (909) 752-0234 and plan your fishing getaway today! Follow this link to see our featured Lakefront homes and find one with a dock just for you!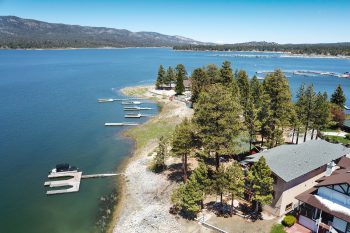 Boat Rentals & Marinas
For boating and fishing regulations in Big Bear Lake visit: Big Bear Municipal Water District www.bbmwd.com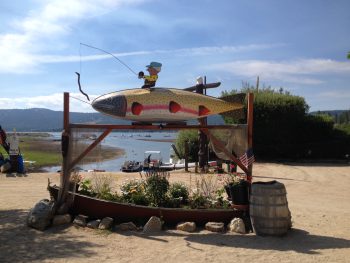 Captain John's Marina
39369 North Shore Dr
Fawnskin, CA 92333
(909) 866-6478
www.fawnharbor.com
Captain John's Fawn Harbor & Marina is a full service marina that is tucked away on the north shore of Big Bear Lake for canoe, kayak, SUP, and a variety of motor boat rentals including pontoons, bass and electric boats. Guided tours, slip rentals and dock services also available. Home of the biggest Disc Golf Course in Big Bear!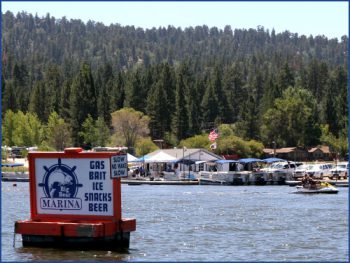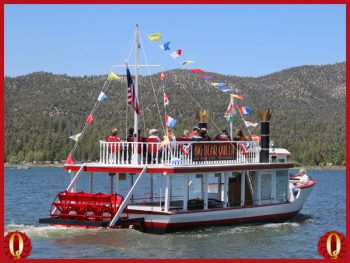 Big Bear Marina
500 Paine Court
Big Bear Lake, CA 92315
(909) 866-3218
www.bigbearmarina.com
Home of the "Big Bear Queen" as well as a one-stop place for boat rentals including pontoon, fishing, kayak, and jet skis. Water sports include wake boarding, water skiing, tubing and jet skis. A tackle shop and charter fishing tours are available as well as boat slips and launch services.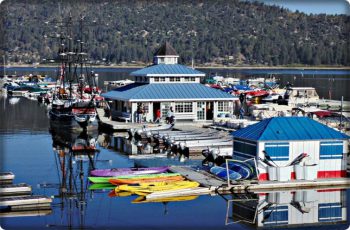 Holloway's Marina
398 Edgemoor Rd
Big Bear Lake, CA 92315
(909) 899-5706
www.bigbearhollowaysmarina.com
Arr matey! Set sail on the "Time Bandit" pirate ship! One of Big Bear Lake's most beloved experiences. Holloway's also has a full compliment of boat rentals, jet ski, slips, and charter fishing services. Holloway's was this years recipient of the Chamber of Commerce Summit Award for community driven companies and excellence!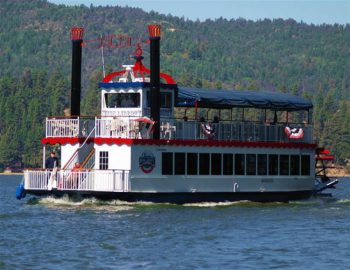 Pine Knot Marina
439 Pine Knot Ave
Big Bear Lake, CA 92315
(909) 866-8129
www.pineknotmarina.com
Open Memorial Day through Labor Day. Take a cruise on the "Miss Liberty" paddle boat. Full range of boat rentals, water sports, parasailing and slip rentals. Guided fishing services also available.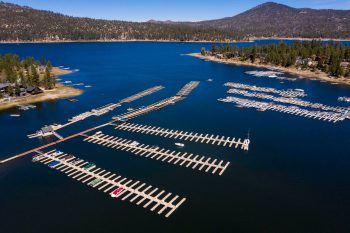 Pleasure Point Marina
603 Landlock Landing
Big Bear Lake, CA 92315
(909) 866-2455
www.pleasurepointmarina.net
Wide range of rentals and services available including pontoons, fishing boats, kayaks, SUP, fun boats and pedal boats. Slip rentals available. Great location closer to the dam.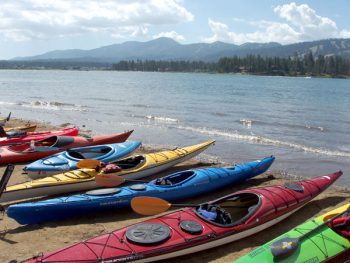 GetBoards
2 locations available:
Boulder Bay Park (39168 Big Bear Blvd) & Veterans Park (40905 Big Bear Blvd)
(909) 878-3155
www.getboards.com
Single & Double kayaks, SUP or cruiser bike rentals! All Summer long!
Fishing & Charter Services
Purchase a fishing license (ages 16+) at a local marina or sporting goods store, or go online to: httpss://www.wildlife.ca.gov/Licensing/Online-Sales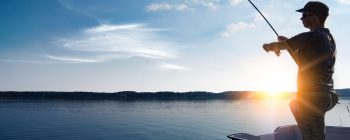 Cantrell Guide Service
400 Pine Knot Ave
Pine Knot Landing
Big Bear Lake, CA 92315
(909) 585-4017 (John) or (909) 239-7867 (Cliff)
www.bigbearfishing.net
Guaranteed to catch a rainbow trout on your 3-hour excursion or your next trip is free!
Lucky Bear Fishing Charters
39369 N Shore Dr
Fawnskin, CA 92333
(909) 866-7303
www.luckybearfishing.com
Located at Captain John's Marina. Fishing gear and licensing available.
Big Bear Fishing Adventures
400 Pine Knot Ave
Big Bear Lake, CA 92315
(909) 436-8882
www.bigbearfishingadventures.com
Located at Pine Knot Marina. Spin & fly fishing husband and wife team with over 20 years experience.
Need a pole? Shopping in Big Bear is Very Limited but we found the best spots to buy fishing equipment in Big Bear Lake!
Big Bear Sporting Goods
40544 Big Bear Blvd
Big Bear Lake, CA 92315
(909) 866-3222
Big 5 Sporting Goods
41385 Big Bear Blvd
Big Bear Lake, CA 92315
(909) 866-2730
Check out here for information on Big Bear Queen Lake Tours