Hiking in Big Bear
Hiking in Big Bear and the San Bernardino National Forest is a great outdoor activity.  Easily reachable from your cabin in Big Bear, these hiking trails are worth exploring.  Whether you are looking for hiking trails near Big Bear with views of the lake, or a longer hike with views of the surrounding mountains, you will find the great outdoors close to Los Angeles.  Check out these destination hikes in Big Bear recommended by SoCal hiker David and his blog: Nobody Hikes in LA.  Be sure to purchase a National Forest Adventure Pass before parking from the Big Bear Discovery Center.
Easy
Heaps Peak Arboretum– Stop by on your way up the mountain to your cabin in Big Bear.  Conveniently located off highway 18, the Arboretum features a quick 30 minute hike that is perfect for stretching your legs and is wheelchair accessible and offers an easy loop with beautiful views.
Alpine Pedal Path– This is a popular walking trail that runs along the north shore of Big Bear Lake.  It's a beautiful way to leisurely enjoy the views of the lake, mountains and fresh air.
Woodland Trail– Located near the Stanfield Cut-Off in Big Bear Lake, this trail is perfect for acclimating to the thin mountain air of the San Bernardino National Forest.  The loop takes about an hour and includes beautiful views of Big Bear Lake.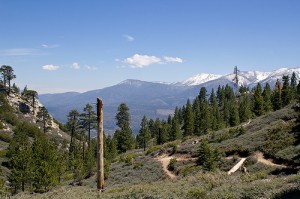 Moderate
Grays Peak– A favorite of locals and visitors alike, Grays Peak Trail is a pleasant option for both hikers and mountain bikers and easy to get to from your Big Bear Lake cabin rental.  The trail is a steady 3 mile climb but the terrain is easily manageable.  The trail starts along North Shore Drive, just outside of Fawnskin.  Make sure you have an adventure pass for parking and your camera to take a picture of the amazing view of Big Bear Lake at the end!
Strenuous
Cougar Crest Trail to Bertha Peak– Close to Big Bear Lake and Fawnskin with an easy drive from your cabin in Big Bear, this 3 hour hike is popular with visitors and locals, and meets up with the Pacific Crest Trail with views of Holcomb Valley and Big Bear Lake.  Find the trail head right off the 38 near the Big Bear Dam.
Keller Peak Lookout via Exploration Trail– if you are looking for an elevation challenge and a little more time out on the mountain, this 6 hour hike has a little bit of everything.  With fantastic views and a historic fire lookout, this trail near Running Springs is a destination worth the time and is easy to get to from your Big Bear cabin rental off the 330 and Keller Peak Road.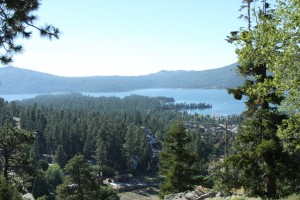 For more hikes near Big Bear and the surrounding San Bernardino National Forest, check out David's Nobody Hikes in LA Guidebook
To book your Destination Big Bear Cabin Rental, call (909) 752-0234.  Destination Big Bear has cabins conveniently located near Bear Mountain Golf Course, Snow Summit, Big Bear Mountain, Big Bear Village, and Big Bear Lake.  We have cabins for every budget from cheap cabin rentals to luxury cabin rentals. Ask about pet-friendly cabins and activities to do in Big Bear Lake.