Adventure Getaways For Kids in Big Bear Lake
Family vacation memories are sure to be made during your next trip to a Big Bear Lake cabin rental!  Big Bear is loaded with fun, kid friendly activities that are sure to excite the whole family.  Hit the trails in a Jeep, catch your own dinner, set sail on a pirate ship or fly through the air in a helicopter!  Here are our favorite adventure getaways for kids in Big Bear Lake.
Jeep Experience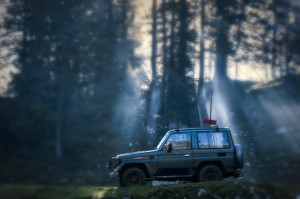 Kids love adventure and there is nothing more exciting than hitting the trails in your own Jeep!  Choose from the beginner off-road tour & mining adventure or more advanced rides including rock crawling. The kid friendly mining adventure will take you through the Holcomb Valley where the original settlers and gold miners dug for treasure.  Ages 1 1/2 and up are welcome.  Tours include a guide that will take through the wilderness while you follow along in your own Jeep and can take you as far as Lake Arrowhead, Johnson Valley or the Santa Ana River.  Get ready for a fun and memorable ride!  For rates and tour information visit their website at https://bigbearjeepexperience.com or call (909) 420-5828.
Fishing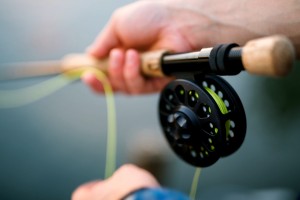 Big Bear Lake is a great location for fishing with multiple kid friendly tournaments throughout the year.  Try your hand at catching trout, bass and carp.  Whether you are an experienced angler or hobby fisherman, you are sure to remember the look on your child's face when they reel in their first catch!  For fishing license information visit the California Fish & Wildlife website at httpss://www.wildlife.ca.gov/Licensing/Fishing or call one of the local sporting goods and fishing stores in Big Bear Lake.  Licenses are required for ages 16+.
Hiking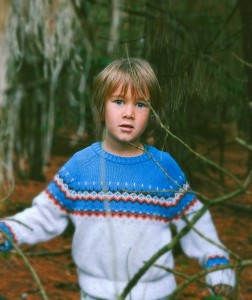 Head to the mountains and take a hike!  The Big Bear Discovery Center is a great starting place to learn about the various trails throughout the Big Bear Valley.  The Woodland Trail on the north side of the lake is a wonderful, family friendly 1.5 loop with educational stopping points along the way.  Kids will love learning about how plants and animals use the surrounding forest to survive.  Keep your eyes open for lizards, birds, squirrels or maybe even a deer.  Don't forget to pick up your Adventure Pass before you go!
Pirate Ship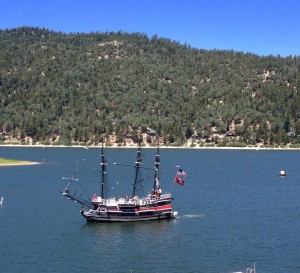 Hop aboard a Pirate Ship and set sail around Big Bear Lake!  Each tour is captained by a "pirate" and features live entertainment.  The pirate ship was featured in the 1981 movie "Time Badits" where it got it's name, The Time Bandit!  Eye patch not required!  For sailing times visit the Holloway Marina website at https://bigbearboating.com or call (909) 866-4386.
Helicopter Ride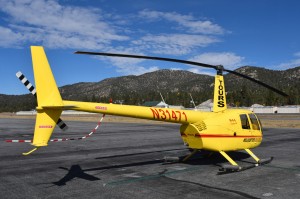 Fly high above the trees in a helicopter!  All ages are welcome on this exciting ride that circles over Big Bear Lake and the surrounding valley.  Take your pick of flight path and length for an enjoyable and memorable flight!  Rides start at just $35 and discounts are available.  This family friendly adventure is available year round.  Stop by the Big Bear Lake Airport or visit https://www.helicopterbigbear.com for pricing and flight information.
Book your family adventure now and get ready for a lifetime of memories!  Remember family vacations as a kid?  Big Bear Lake is the perfect place to continue the tradition.  It's time to disconnect and reconnect in a Big Bear Lake cabin rental.  We have great family cabins close to the lake, near hiking trails and The Village.  Let us know if fido will be coming along and choose from one of our many pet friendly cabin rentals.  Call (909) 752-0234 and let our vacation experts help you plan your next Big Bear Lake getaway!