Big Bear Troutfest
Big Bear Lake Troutfest is an annual fishing event that takes place in Big Bear Lake, California. The event, usually held in June, attracts fishing enthusiasts from across the region.
Here is Everything you need to know about WON Big Bear Lake Troutfest, registration, event activities, fishing, prizes, and all additional information for Troutfest.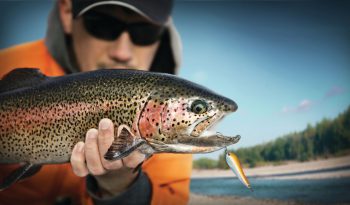 If you are looking for a unique fishing experience in nature, then WON Big Bear Troutfest is the perfect place to be! Every year, hundreds of fishermen come together in the Big Bear Valley, located near San Bernardino Mountains in California, and celebrate their love of angling with an exciting weekend of competitions and social events. Get ready for two full days amidst majestic mountain peaks filled with laughter, knowledge-sharing about trout fishing, and stunning scenery – complete with a hearty helping of camaraderie.
Check out more Big Bear Lake Fishing
Big Bear Lake Troutfest Registration Info
Adult entry fee $80, kids $30 (15 and under)
During the event, anglers can fish rainbow trout ONLY from a boat, a non-motorized vessel, or from the shoreline.
Be sure you're carrying a valid CA fishing license for the duration of the event. Kids under 16 years of age do not need a fishing license.
Entries are limited to 650 registered anglers.
Each contestant receives a jar of bait, a wristband, an event t-shirt, and 1 raffle ticket for the general raffle.
NEW! Lunch Meal Voucher add-on ($10) will be available for purchase at registration. Open to participants and their friends and family members. Lunch served at the award ceremony only between 2:30 PM – 4:30 PM.
Online pre-registration ends at 5PM on Thursday, June 8, 2023, or when entries are sold out.
In-person registration takes place from 12 PM – 10 PM on Friday, June 9, 2023. There is no entry on June 10 – only check-in for pre-registered anglers.
Check-In
Registered participants can check in on Friday, June 9 from 12 noon – 10 PM OR Saturday, June 10 prior to 6 AM. Check-in is located at 630 Bartlett Rd in The Village.
Big Bear Lake Troutfest Schedule
In-person registration offered Friday, June 9, 2023 from 12 PM – 10 PM.
Angler check-in is Friday, June 9 from 12 Noon – 10 PM AND Saturday, June 10 from 5 AM-9AM

Participating Anglers can begin fishing Saturday & Sunday, June 10 & 11 from 6 AM to 2 PM.

Weigh station located at Big Bear Sporting Goods located at 40544 Big Bear Blvd. Open 7 AM – 2:30 PM on both competition days.
Prizes will be awarded Sunday, June 11 at 3:00 PM in the Bartlett Parking Lot at 630 Bartlett Rd.
For questions regarding the derby, contact 1-800-424-4232 or email WillW@BigBear.com.
*Event photographers will be present at all event locations. Please be aware that by purchasing entry into this event, you consent to the use of your voice, name, and/or likeness being used in any and all media (video, photo, print, etc.) without notice or compensation.
Find a Cabin

Discounted Entry

Get 50% Off when you stay at least two nights OR when you rent a pontoon from any of these marinas in Big Bear Lake:

Other Discounts For 2023:

First Responders & Active/Retired Military: $20 Off individual entries
Locals & Second Homeowners: $10 off individual entries
Family discount: 50% off 1 child entry with adult entry paid at full price.

Big Bear Lake Troutfest Prizes!

The awards ceremony takes place on Sunday, June 11 at 3:30PM at Bartlett located at 630 Bartlett Rd in the Big Bear Village. The awards program includes a general raffle prize drawing with thousands of dollars worth of fishing gear, bait and tackle from national manufacturers plus lunch (vouchers purchased at your registration).

Anglers also have a chance to win a brand-new fishing kayak as part of a separate raffle courtesy of Big Bear Sporting Goods.

NEW! Anniversary Tournament Champion

For 2023, a new Anniversary Tournament Champion will be named based on the Largest Fish (by weight) caught regardless of any age category. Bring your A-game and walk away with $2,500!

Grand Prize Tagged Trout

Cash prizes will be awarded for tagged fish with winning number – worth $10K.

Non-Grand Prize Tagged Trout

$500 will be awarded for each of the first 5 non-grand prizes tagged fish brought in.

Weight Class Awards

Weight class awards will be given to Adult Male & Female (16+) categories:
1st Place – $1500
2nd Place – $750
3rd Place – $500

Weight class awards will also be given to Child Male & Female (15 and under) categories:
1st Place – $500
2nd Place – $250
3rd Place – $100