Come check out the new Big Bear Jeep Experience!
Get ready to take the driver's seat with Big Bear Jeep Experience! You follow a Big Bear Jeep Experience Guide Jeep in one of their trail

ready and equipped Jeep JK's on an exciting and educational outing the whole family will enjoy. Each Jeep holds 4-5 passengers, depending on their size and chances are you or your party are the only people that will be in the vehicle.
Leave your Big Bear cabin rental and head into Big Bear City and the San Bernardino National Forest and choose from tours of different skill levels. Big Bear Jeep Experience offers a beginner, kid friendly mining tour that explores Holcomb Valley and the original Big Bear settlements. Passengers as young as 18 months are welcome, with parental supervision, and Big Bear Lake Jeep Experience can provide car seats if needed. At the end of your mining adventure, the kids find a bucket of very rich Big Bear miner's dirt. Who knows, it could contain some gold or ancient Indian artifacts!
It also offers an intermediate off road driving tour that travels through many different trails surrounding Big Bear going as far as Lake Arrowhead, Johnson Valley, or the Santa Ana River. Beginning in Jacoby Canyon, an intermediate trail starts around the Cactus Flats area, then travels up Gold Mountain where you will have to use all the equipment your Jeep has to offer. There is also  an advanced off road adventure, a very exciting rock crawling experience!
Bring your own snacks along and eat on the trail on your Big Bear adventure at one of your stops or Big Bear Jeep Experience will provide snacks and beverages for you to enjoy. There are some areas that are available for walking and hiking on trails in the San Bernardino National Forest along your route. Remember to take a camera for spectacular photo opportunities and for recording your once in a life time adventure in Big Bear.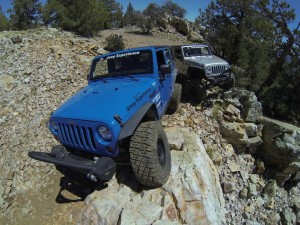 Big Bear Jeep Experience is open year round, seven days a week (weather and availability permitting) to explore the hundreds of miles of Jeep trails in the Big Bear Valley so get ready for an experience you'll never forget!  Reservations are recommended. Big Bear Jeep Experience is located at 42011 Big Bear Blvd. Unit A Big Bear Lake, California 92315. For information and reservations call (909) 420-5828.
To book your Destination Big Bear Cabin Rental, call (909) 752-0234.  Destination Big Bear has cabins conveniently located near Bear Mountain Golf Course, Snow Summit, Big Bear Mountain, Big Bear Village, and Big Bear Lake.  We have cabins for every budget from cheap cabin rentals to luxury cabin rentals. Ask about pet friendly cabins and activities to do in Big Bear Lake.