Champion Lodgepole Pine Trail
The Champion Lodgepole Pine Trailhead is located on the south side of Big Bear Lake.  From Hwy 18, turn south on Mill Creek Road which turns into Forest Service (FS) Road 2N10 (dirt fire road with possible rocks, ruts, uneven surfaces. Use caution.) Continue on FS Road 2N10 for 4.5 miles, turn right on 2N11 and continue for 1 mile to the trailhead.  The Champion Lodgeople Pine Trail is a gentle walk on a path along a small stream and ends in a meadow with one of the largest known Lodgepole pines in California.  The Bluff Mesa Trail (no bikes) continues north for an additional 0.4 miles and ends at the Bluff Mesa Group Camp.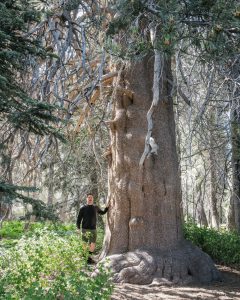 Most trailheads, recreation areas, and parking lots in the Big Bear Valley require an adventure pass. Follow Link above for more info about requirements before planning your next hiking or biking trip.
Big Bear Hiking Trails
Big Bear Lake is an outdoor playground.  There are trails for every skill level. Choose from paved & easy to rocky & advanced or anything in between! Take in the picturesque views from our trails throughout the Big Bear Valley while breathing in the crisp mountain air!