Alpine Pedal Path
This asphalt path meanders along the sparkling north shore of Big Bear Lake from Stanfield Cutoff to the Solar Observatory and Serrano Campground. This path features gentle ups-and-down as it winds through mature trees and meadows. An underground tunnel connects the path to the Cougar Crest Trail parking lot and continues on to the Big Bear Discovery Center where hikers can find water, restrooms, Adventure Parking Passes and local experts. Seasonal parking is available at Juniper Point Picnic Area and Meadow's Edge Picnic Area (Adventure pass required for picnic area parking).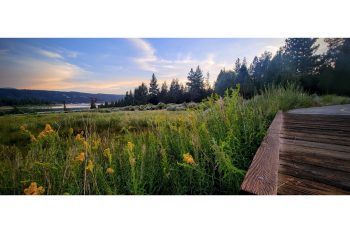 Very Easy 2.5 miles One Way

Most trailheads, recreation areas, and parking lots in the Big Bear Valley require an adventure pass. Follow Link above for more info about requirements before planning your next hiking or biking trip.
Big Bear Hiking Trails
Big Bear Lake is an outdoor playground. There are trails for every skill level. Choose from paved & easy to rocky & advanced or anything in between! Take in the picturesque views from our trails throughout the Big Bear Valley while breathing in the crisp mountain air!