Discover Meadow Park in Big Bear Lake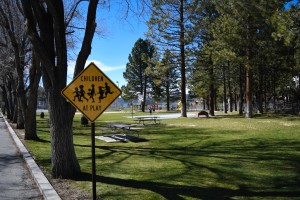 Big Bear Lake is a fun vacation destination for families looking to spend quality time together without having to travel too far from home. The days are warm and sunny for hiking, relaxing by the lake or out on the water fishing. The nights are cool and the stars in the night sky are easy to see without the city lights. If you are looking for the perfect location for your cabin rental in Big Bear Lake, CA, consider staying close to the park. Kids will love spending the day shooting hoops, swimming, or letting their imagination run wild on the slides at Meadow Park, Ski Beach and Swim Beach.
Meadow Park
Whether it's basketball, tennis, T-Ball or just having fun on the slides and swing set, Meadow Park in Big Bear Lake is a kid's dream. Pack a lunch and enjoy spending the afternoon in the fresh mountain air and sunshine. Throw down a blanket under the shade of a tree or have a family reunion under the covered pavilion and grill on the barbeque. A cabin rental in Big Bear Lake near Meadow Park is a great option for warm weather fun for the whole family.
Ski Beach
Don't let the name fool you! Ski Beach is a wonderful open area with playground equipment and lake views. Walk down to the water's edge and feed the ducks or do some fishing off the shore. There is plenty of sunshine to enjoy just a short walk from your Big Bear Lake vacation rental.
Swim Beach
When the days begin to heat up at your cabin rental in Big Bear Lake, CA it's nice to cool off in the water. A small admission fee allows the family access to picnic tables, sandy beach, clear water and a fun inflatable slide. A snack bar is available for hot dogs and other treats. The beach is open every day except Tuesdays from 12-5 p.m.
Bark Park
Even if you are staying in a pet friendly Big Bear Lake cabin rental, your furry family member can stretch their legs at Bark Park. A nice, fully fenced area with benches for you and play equipment specially designed for dogs is a fun way to let your pooch have some fun in the sun. Please respect the park and others and pick up after your dog.
Enjoy all 4 Big Bear Lake parks at once! You can easily walk from your Big Bear Lake vacation rental or parking is available and the parks are all connected and located at 41220 Park Avenue (MAP). To book a cabin rental in Big Bear Lake that's within walking distance to kid friendly fun, speak with one of our vacation experts at (909) 752-0234 or look for Meadow Park in the cabin rental description on our website. Destination Big Bear has luxury cabin rentals, pet friendly cabins and budget cabin rentals close to Meadow Park, The Village or Big Bear Lake, CA.
Dog Park- Bark Park
Baseball Field at Meadow Park
Play at Meadow Park
Barbeque at Meadow Park
Monkey around at Meadow Park
Tennis Courts and Volleyball at Meadow Park
Swim in Big Bear Lake
Ski Beach in Big Bear Lake
Lake Views in Big Bear Lake
Swim Beach in Big Bear Lake
Meadow Park in Big Bear Lake
Meadow Park in Big Bear Lake