Murray's Bar and Saloon Great Food & Karaoke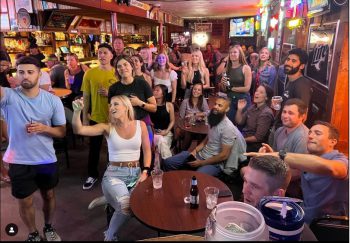 Murray's Bar and Saloon has been serving Big Bear for over 25 years. They're a local Irish pub, but love the bikers too. They have nine TVs with satellites on every one, so you can catch all the football games on Sunday. They have low prices and great quality food. Hungry? They got you covered, because their food is amazing. From juicy burgers to steak you can't go wrong. Mike, the owner, recommends the delicious 1/2lb burger! Planning a birthday party, or maybe a bachelor or bachelorette party? Come to Murray's! You never know what they'll do for you, and they'll make sure you have lots of fun!
ABOUT MURRAY'S
History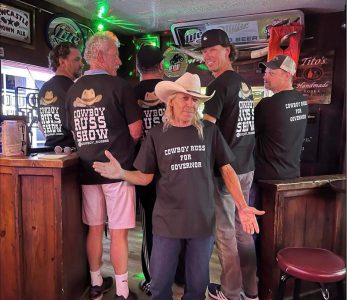 Established in 1990.
For over 25-years, Murray's Saloon and Eatery has been serving the Big Bear area. They are locally family owned and operated, and a local favorite for bikers, skiers, and hikers. Open 7-days a week. Won't close for fire, flood, snow, or electricity malfunctions so come hang out and enjoy a delicious meal at this bar and grill. Dine in the restaurant or try the outdoor seating and play a game of horseshoes. At Murray's Saloon and Eatery, they have a full bar with beers and microbrews on tap, as well as a large wine and liquor selection, beers and microbrews on tap. They've transformed from a dive bar with bras on the ceiling to a classy saloon. They also have karaoke every night, as well as occasional live musical acts. Our building was originally a hospital; many people have been born in our location. While we haven't seen them in a while, beware of the ghosts. Murray's is a staple in Big Bear and we can assure you it's the local spot for fun times and great food! Come see the locally famous "Cowboy Russ Show" Murray's KJ.
Owners
Mike and Raelene Kostiuk are the passionate owners and operators of Murray's Saloon & Eatery. The Kostiuks took ownership of Murray's in May of 2009. Over the years they have made significant and much needed updates and improvements. Both the interior and exterior of the bar have been updated, as well as a new and varied menu of home cooked style eats, almost all made from scratch. They serve breakfast, lunch, dinner, and late night along with daily specials. You'll find many items named after team members and locals who have inspired these over the top creations (like the Russell Burger).