Volodymyr Pielikh in Big Bear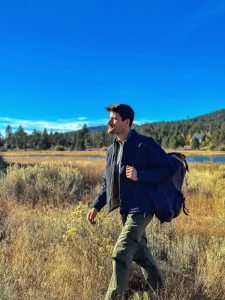 Volodymyr Pielikh, the Ukrainian Model and Instagram Influencer stayed with Destination Big Bear! He came during the best time of the fall season, October! His friends enjoyed the many cabin amenities of Sky View Lodge! He is an avid traveler, model, and artist. His art page features his crafts, digital sculpting, painting and digital drawing. Check out our luxury cabin Sky View Lodge! He and his guests enjoyed the many October festivities Big Bear has to offer! From Oktoberfest to good eats, to the luxurious cabin amenities at Sky View Lodge!
You can water his Big Bear adventures on his Instagram.
Check out more collaborations like Volodynyr Pielikh in Big Bear, HERE!
Are you a social media influencer, film crew, celebrity, athlete, or just plain want to host a giveaway to your following? Collaborate with us! Become an affiliate today. CLICK HERE for more info! We work with many different entities to provide lodging in exchange for collaborative exposure!
Find a Cabin
On Instagram while he was enjoying October Festivities, he documented the whole thing! He shared this review with us:
My first time in Big Bear was unforgettable. My loved ones and I had a great time which we spent mostly in the cabin. We played board games, enjoyed the BBQ, watched movies on their enormous 70" flat screen, relaxed in the jacuzzi, played a lot of table pool, and enjoyed the coziness of this gorgeous three story cabin. It was October so we got to experience their Oktoberfest! The festival was such a fun unique experience where we got to try lots of different beers and food vendors!
Not to mention the nature up there! We enjoyed multiple hikes around the lake and a little drive away and found ourselves speechless.
Big Bear turned out to be such a beautifully peaceful place with entertainment at every turn. Being so close to LA we will be definitely be back to repeat our experience with Destination Big Bear!
Sky View Lodge- 
4 Bedroom 4 Bath 10 Occupancy

Incredible Sky Valley Estates Offering Panoramic Meadow & Mountain Views! Spa!
Sky View Lodge, located in the East end of the Valley and surrounded by a serene setting, is the perfect Big Bear Cabin to escape to and relax. With breathtaking wooded and mountain views, upgraded rustic features and newer construction you are sure to enjoy this luxury home.