Big Bear Homeowner Marketing Info
At Destination Big Bear our entire team does their part to ensure your home is top notch for our guests! From the onboarding process to check-in and check-out, Destination Big Bear ensures you are taken care of. On this page, Big Bear Homeowner Marketing Info holds the key to all you need to know about Destination Big Bear marketing strategies and way to help expose your cabin in today's saturated market! There are many programs in place to expose your cabin and generate bookings besides just visiting our website and finding you in the list of homes. This page will walk you through all benefits and programs we offer in our marketing department, to cover those not-so-busy times of year. Feel free to reach out to destinationbigbearmarketing@gmail.com if you have any questions or would like to work with our marketing team on a plan to further exposure your property using the following suggestions!
Big Bear Homeowner Affiliate Program Opportunities
Customized URL
We have made each home a customized URL. Anytime this link is used by a guest to book your cabin, Destination Big Bear will only charge 15% commission instead of your normal published commission rate. Use this link on your Youtube, Facebook, TikTok and Instagram accounts. Yes! You heard that right. Share your link, earn money back from your generated bookings! If a guest does not book your home, but makes a booking for another home and it comes from your link, you get $50 for that booking!
This custom URL Affiliate Program is also used by our marketing team to attract bookings from Big Bear local businesses, partners, influencers, and so much more! Implementing useful marketing techniques to promote your rental home is very important to us and we can't wait to hear from each of you on what we can do to better our services and generate more bookings as we come into the busy season!
For more info about opportunities to market your rental home, email:
destinationbigbearmarketing@gmail.com
Influencer Collaborations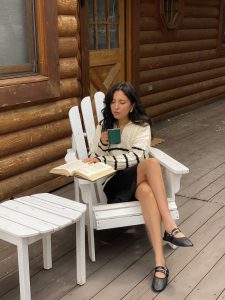 Are you considering the donation of your property for an influencer collaboration? What this means is, an influencer/celebrity who has a strong social media following has either chosen your home, or your home fits the needs and criteria for an influencer giveaway. The giveaway is simple. You donate a 2-Night Stay to the influencer, they advertise your home to their large following. We host a giveaway to their followers for exposure on your cabin, and the winner will get a Free 2-night stay. So, 4 nights total in exchange for free advertising and attention for your listing.
Check Out this Social Influencer HERE
Click HERE for more info about what is offered to the Influencer
Destination Big Bear will be managing the entire process with no hassle to you. The influencers that are looking into staying at your properties have to fit a specific criteria. They must be contracted to do the following:
Provide at minimum:
Permanent social media posts, i.e. not just stories or 24 Hour posts across applicable platforms. (Instagram, Facebook YouTube & TikTok Channels) tagging @destinationbigbear and the home link directly. (Your social handle if applicable.)
Swipe up story links for your follower giveaways (Instagram) both tagging @destinationbigbear AND providing personalized affiliate link and the home link directly.
Approving a blog page/featuring the influencer back linking to both www.destinationbigbear.com and to the home directly.
*All links must be a follow link. "No-Follow" links are not accepted*
In addition, they must agree to pay the home's deposit amount for incidentals.
HOW WE CHOOSE INFLUENCERS
They must have, at Minimum 30K Followers on Instagram, TikTok, and Facebook. (Whichever is applicable.) What does this mean for your home? When an influencer stays with Destination Big Bear, they are expected to make a post, share our giveaway posts, and make a high quality video/photos of their stay and their experience for all of their following to see. They will give your cabin maximum exposure in exchange for a free stay. This will help generate bookings from their following, market your home on platforms that are outside of our reach, and ultimately bring a lot of attention to your listing. We tend to approve influencers who fit our demographic and target. To ensure we are attracting families and quality guests!
The Giveaway Winner will be required to Tag Destination Big Bear and share a link to book your cabin on their social media as well.
FOR MORE INFO OR TO DONATE YOUR HOME FOR AN INFLUENCER STAYS OR WORK-TRADE STAYS REACH OUT TO:
destinationbigbearaffiliates@gmail.com
Work Trade Collaborations

Our Work-Trade Videographers are available to video your cabins in exchange for 2 Nights! It's much like the influencer program but you get a lot more content for your cabin in return for your donation! They are contracted to do everything the influencers do PLUS get footage that allows our marketing team access to high-quality video for further marketing your listing which will be used across all applicable media outlets!
Host a Cabin Giveaway
Below is a perfect example of a tested and successful Homeowner Cabin Giveaway Collaboration. Our marketing department worked with this homeowner on exposing his cabin, which was new to our management program. Within the first day of posting this giveaway, his property page received over 3,000 visits! Upon the completion of this giveaway, our rates department noted 45 future booked dates! A winner was chosen and contracted to post their giveaway stay on Social Media for further exposure on this cabin! The owner was very pleased and left a review for our marketing department on Yelp!
The results of this giveaway were great and we received many emails and contacts inquiring about this cabin from this giveaway. Many new email and phone number leads were captured to grow our audience and reach and further; expose the cabin!
On the last day we checked the data and 3,391 people were interested and viewed images and the property detail page of the cabin. 1,718 of those were new contacts and were added to our marketing email list.
Giveaways like these help:
To better represent properties in our marketing plan.
Understand the target demographic for the season to generate content relevant to our following.
Generate new leads and grow our contact lists for marketing campaigns.
Expose new cabins to the program so that they stand out and are recognized later.
Overall brand recognition so that the next time someone comes to Big Bear they are more likely to stay in Big Bear, and more specifically, your cabin!
If you are interested in Hosting a Cabin Giveaway contact: DestinationBigBearMarketing@gmail.com
Make It Yours
Many Homeowners have their own Instagram, TikTok, and Facebook accounts for their cabins! This not only gives your home a personal touch, but exposes it to people outside of our Destination Big Bear Marketing Network! Adding personal stories, photos, videos, and guest shared posts to these outlets help guests to see just how special your property is! Featuring things like special amenities helps the onlooker determine if your cabin will be perfect for their stay. Taking fun photos of guests or your own family enjoying spas, playsets, gamerooms, and videos of nice views are a few suggestions! One of our cabins on program, for example, The Cub House, uses a very nice Guest Book that captures Instagram followers and they even have a Logo! This helps guests recognize the home and come back the next time they stay with Destination Big Bear! Who doesn't love repeat tenants? This particular owner shares her personalized affiliate URL link in her Instagram bio and any bookings that pull from herInstagram are at a lower commission rate!
Simply Request a Marketing Feature
We are more than happy to add you to our list of homes for features on our social media accounts! We send out Email Blasts every week and at the bottom of these blasts are Featured Properties. These homes are chosen either from the list of homeowner requests or their relativity to the content in the email. For example, if the feature email is about Snow Summit New Years Eve Torch Light, we would use homes near Snow Summit in the featured property section. Otherwise the homes we choose for the featured property section are completely randomized and we try to not use one home more than once every few months. We feature a small cabin, medium, and large occupancy each week! The featured properties get the most amount of traffic from these emails so they are very effective in generating bookings!
Please reach out to destinationbigbearmarketing@gmail.com if you would like to be the added to the featured property list. These requests also go to our Social Media featured property request list!