Top 10 ways to enjoy Winter in Big Bear
Big Bear Lake is a great 4 season town and right now it's winter! Now is a great time to enjoy all the fun winter activities. The best part? It's only a couple of hours away! Here are 10 ways to enjoy winter in Big Bear:
1. Skiing & Snowboarding!
The most popular reason to come to Big Bear Lake in the winter is for skiing and snowboarding. Big Bear Lake boasts some of the best snow-making technology in the nation as well as beautiful weather and a large variety of park features. The best way to enjoy Snow Summit and Bear Mountain is to buy your lift tickets in advance and plan your trip mid-week to avoid the crowds and traffic.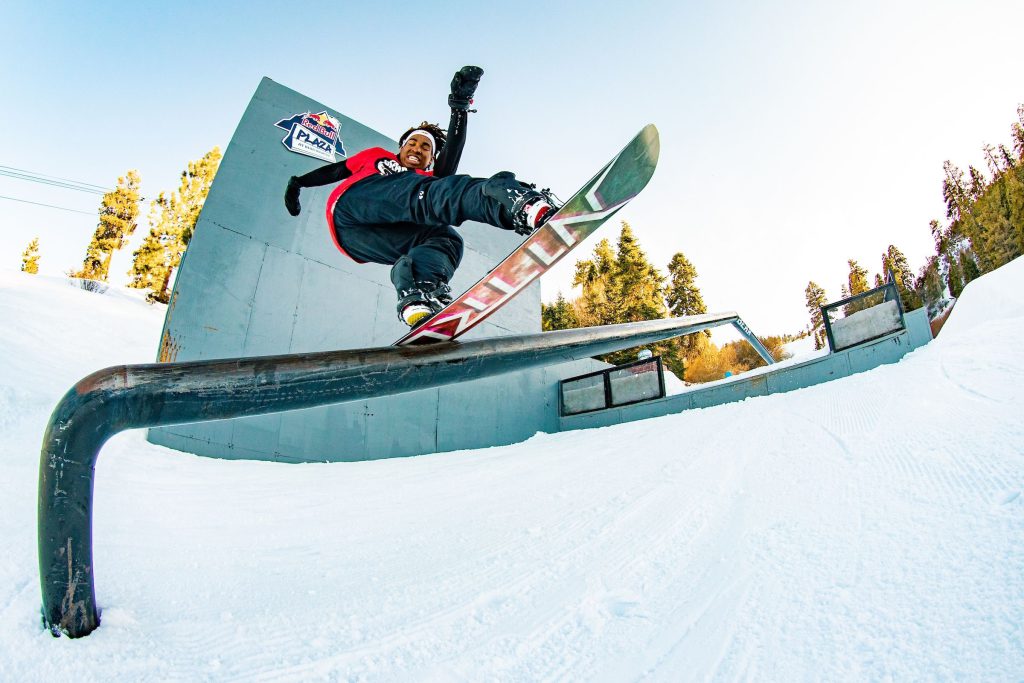 Snow Summit
You can't beat the views of Snow Summit. With 240 acres to enjoy, you'll find plenty for all ability levels and types in one place – from new beginners at 8200 feet down to experts who want the black diamonds.
Phone: 844-462-2327
Website: Click Here Snow Summit
Bear Mountain
If you're looking for a place that's as epic in the mountains as it is on land, then Bear Mountain will not disappoint. With 748 acres of skiing terrain and groomed trails ranging from beginner to advanced levels, there are enough opportunities to keep everyone happy! And the region's largest beginner areas and highest lift-served peak (8,805 feet).
Phone: 844-462-2327
Website: Click Here to Visit Bear Mountain
Find a Cabin2. Take a Ski or Snowboard Lesson!
It's always more fun when you know what you are doing. Take a refresher course or learn a new skill from the pros. Both Bear Mountain and Snow Summit offer skiing and snowboarding lessons. Consider taking a private lesson or schedule your trip mid-week for more personal attention. You are sure to earn yourself some bragging rights once your friends see your GoPro video on Facebook.
3. Soak in the Hot Tub!
Turn up the heat and crank up the jets. Soothe your tired muscles after a day on the slopes in your own private hot tub. Our Big Bear Lake cabin rentals have hot tubs with amazing views or ask about an indoor hot tub.
4. Get a Massage!
Let the spa come to you. Book a massage during your next stay for the ultimate in relaxation. Let the professionals melt away your stress and soreness in the privacy and convenience of your Big Bear vacation rental. Mountain Mobile Massage & Spa will even take $5 off your treatment. Call (909) 800-8103 or visit their website at www.bigbearmassage.com
5. Get Cozy by the Fireplace!
Almost all of our cabin rentals in Big Bear Lake have a fireplace for you to enjoy and winter is the perfect time to get cozy. Snuggle up with your special someone or warm-up while you read your favorite book.
6. Have a Snowball Fight!
Bundle up and head outside for a good old-fashioned snowball fight. You are sure to feel like a kid again! The best part? It's free! Just be sure to have your fun away from the windows of your car and Big Bear cabin rental.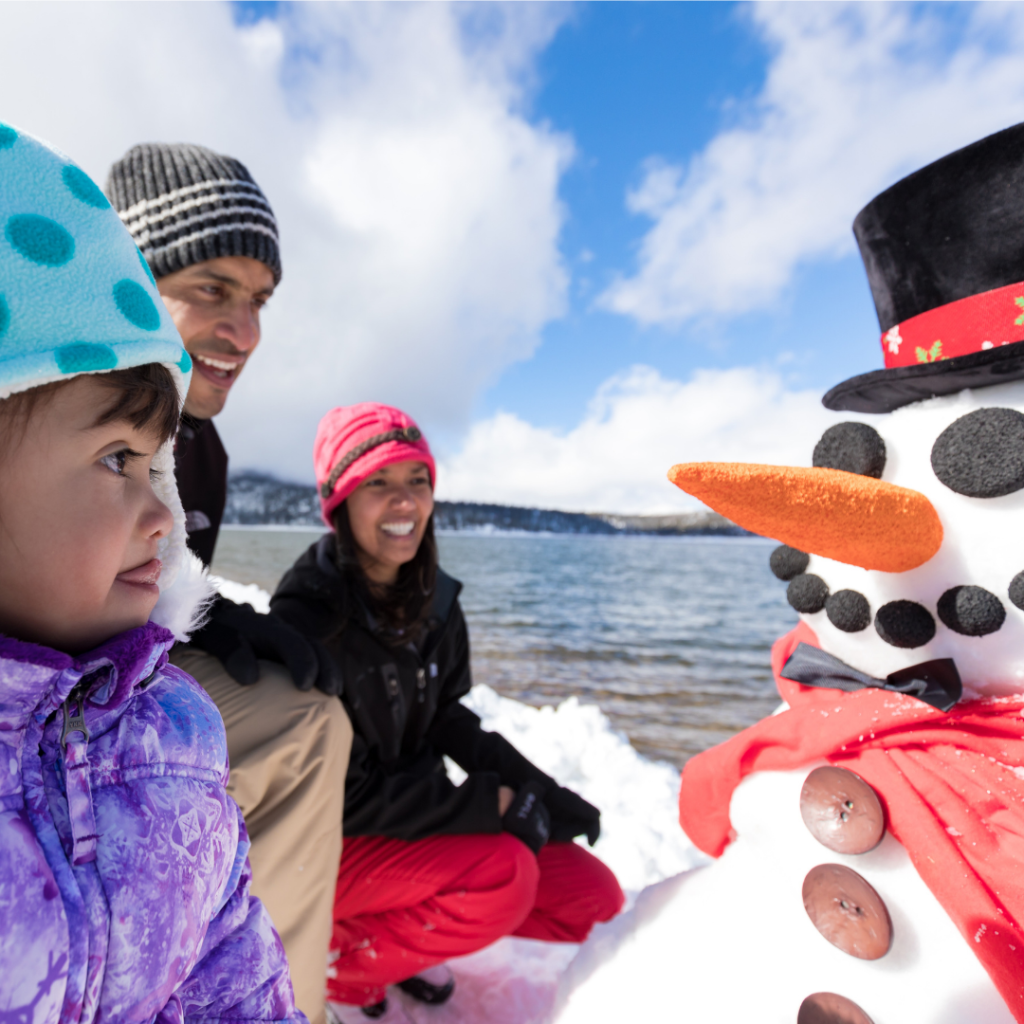 7. Go Sledding!
Grab your sled and head to the hills of the San Bernardino National Forest for free fun in the snow. Sledding is not permitted on private property and avoid parking along the road. Please pick up any broken sled pieces and trash to help us keep Big Bear Lake clean and enjoyable for everyone.
8. Try Snowshoeing!
The Big Bear Discovery Center offers guided snowshoe walks and rentals each weekend when weather permits. Strap on those funny-looking shoes and hit the trails for a great family activity. The Big Bear Discovery Center is located on the north shore of Big Bear Lake. Visit their website at www.mountainsfoundation.org
Action Zipline also offers Snowshoeing tours!
9. Go Tubing!
Take a ride up the "magic carpet" then slide down the hill on an inner tube! Big Bear Lake has 3 pay-to-play ways to enjoy the thrill of the hill. The whole family is sure to have fun at Alpine Slide at Magic Mountain, Snow Play or the new tubing park at Snow Summit. No skills required! Just bring your smile and get ready to have a blast.

Whether you're looking for a quick thrill or an all-day adventure, there's nothing like sliding down an alpine hill on snow-covered terrain. This year-round attraction has become one of our favorite places to visit when the temperature drops below freezing!
Day Sessions & Glow Tubing Available – Cash Only!
Phone: 909-866-4626
Website: Click Here to visit Alpine Slide at Magic Mountain
Grizzly Ridge Tube Park
The Grizzly Ridge Tube Park is the perfect place to spend a day with family and friends. Skip hiking, take one of our magic carpets up top where you can slide down 3 (thrice 300-foot) lanes in high-speed tubes! The park opens daily so come get your adrenaline pumping today at Snow Summit's newest attraction!
Phone: 909-866-5766
Website: Click Here to visit Grizzly Ridge Tube Park
Big Bear Snow Play
Big Bear Snow Play has the longest tubing runs in Southern California! Save your energy for the ride down with the Magic Carpet moving walkways that take you to the top. Glow tubing on Friday, Saturday, and holiday nights. Our extensive snowmaking system provides excellent snow coverage, and nightly grooming ensures the best possible conditions.
Phone: 909-585-0075
Website: Click Here to visit Big Bear Snow Play
10. Take Pictures!
Your friends and family will love seeing the winter beauty of Big Bear Lake and you will want to keep the memories forever. There aren't many places in the country where you can see the ocean, desert, and snow all in one day! We love to see our guests having a great time, so feel free to share your moments with us on our Facebook or Instagram @destinationbigbear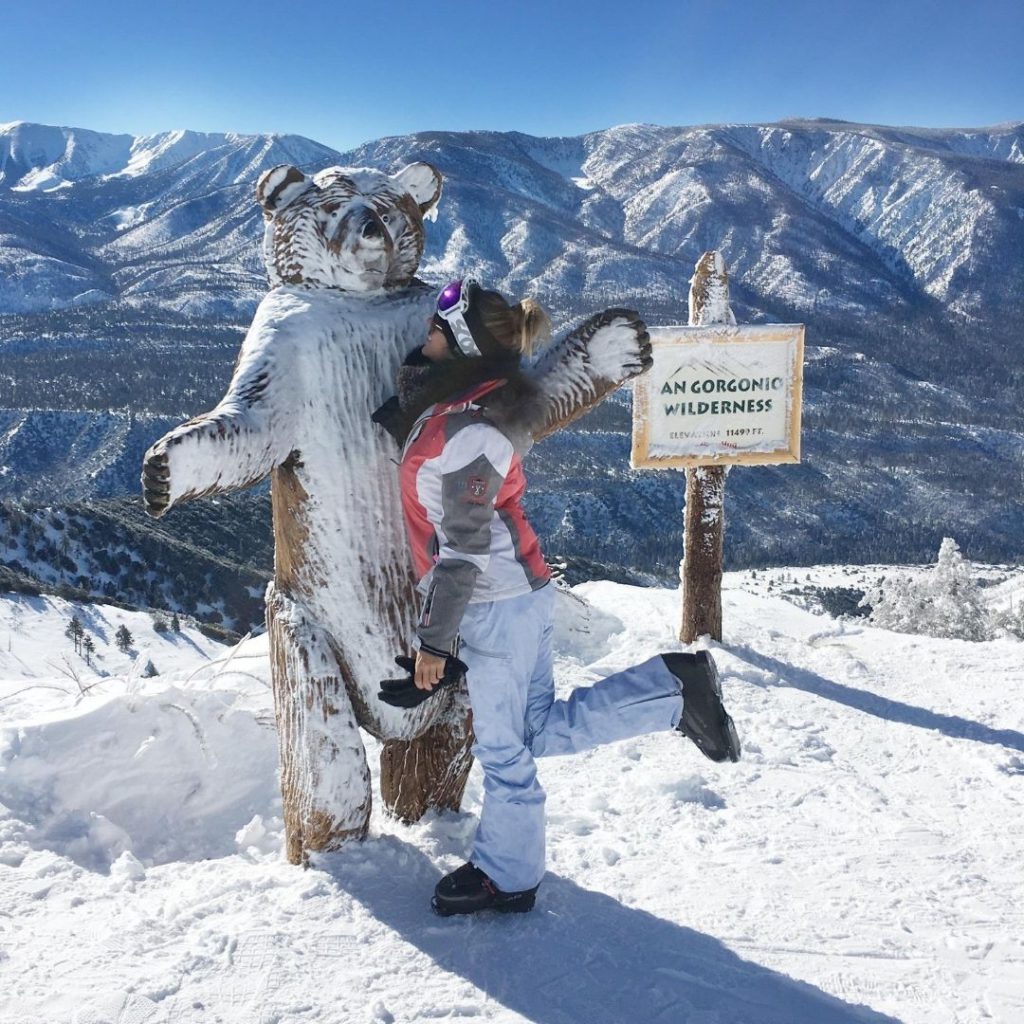 Get your winter adventure started by booking a cabin rental in Big Bear Lake. Let our vacation experts know how you would like to spend your time. We have cabin rentals close to Snow Summit, Bear Mountain, and The Village. Need a pet-friendly cabin or want a luxury vacation rental? We have those, too! Call (909) 752-0234 and tell your friends and family to pack their bags, and their winter coats!