Action Tours California
Action Tours California is Big Bear Valley's one and only stop for Zipline and Segway tours. Both tours are offered year-round and in the winter months, they also offer scenic snowshoe tours. Their zipline course contains 9 unique runs and a suspension bridge at an elevation near 8,000 ft. You will also travel off-road in their vehicles to and from the zipline site with fantastic views of Johnson Valley and Mt. San Gorgonio with the round trip tour time lasting approximately 3 hours. The tour guides on the zipline are really what sets them apart and really make for a fantastic experience.
Find a Cabin Segway Tours
Their Segway tours take you through the village of Big Bear and down to the water as you learn about the history of the valley and take in the amazing views of the lake and snow-crested mountain tops in the winter months. If you're lucky you may even catch one of our resident Bald Eagles, Golden Eagles, or Hawks flying over the lake or perching in a nearby tree. Their snowshoe tours take you deep into the national forest and offer you a chance to discover Big Bear off-pavement and on the trail in areas that you would likely not discover on your own. Once you are done you can warm up with a cup of hot cocoa or coffee before heading back to the office.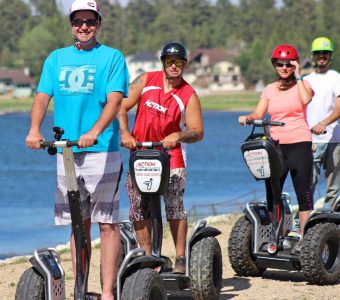 Zipline Tours
Action Tours opened with just the zipline tours 12 years ago after the owner discovered zip lining while on vacation with her family in another state. She fell in love and upon returning home she decided to open the first zipline in the state of California right here in the Big Bear Valley. They remained the only zipline in the state for several years before others caught wind of the thrilling adventure. After years of success with the zipline, they began branching out and opened the Segway tours. Then in more recent years, Action Tours began hosting snowshoe tours.
Enjoy four seasons
One of the great things about Action Tours is their tour diversity. Not only are they located in a beautiful four-season resort town that offers exclusive views and seasonal attractions on each tour, but they also offer a unique variety of tours that allow you to enjoy your experience here in a way that feels fun, safe, and exciting. This is one of the reasons they attract guests of all ages; though they do see young adults and families with teens and adult children quite often on their tours. Don't let that hold you back though- their oldest zipline participant was 94 years young and he did in fact finish all 9 lines!
Themed Zipline Tours
The zipline tour is definitely the most popular activity they have and throughout the year you are likely to find themed events. One of the most popular is the Pumpkin Smash Tour which takes place in late September and runs through the month of October. This is a great way to add to the fun of the zipline tour by offering guests the chance to throw a hand-sized pumpkin at a target while ziplining and if you are lucky enough to hit the target they have a prize package waiting for you back at the office. A Destination Big Bear office favorite is the Zip and Sip tour which runs all year long as a promotional offer with Barrel 33 in the village area of Big Bear. Guests 21 and up can purchase wine or craft beer tasting passes along with their zipline tour and then they are given the opportunity to relax and sample California wine and seasonal craft beer after their tour.
Stay and Save
Destination Big Bear works with Action Tours as well to bring guests 10% off of the tour of your choice! Action Tours also works with the Southern California organizations to offer tours for family reunions and work retreats as well as multi-tour packages with lunches included for those looking for a well-rounded trip filled with fun and adventure. They also serve as a popular venue for local Girl Scouts and Boy Scouts looking to earn badges, the valley's local summer camps, and the Wounded Warrior Project as well as many colleges and other service groups. They love the Big Bear community and all of the guests that visit them from around the world which is why they are a fantastic representation of a local business that treats their guests like family.
Share Photos of your fun Action Adventure on Social Media and Tag Us @destinationbigbear