Pet Friendly Restaurants in Big Bear
Big Bear is a fun place to bring your dog. There are many pet friendly restaurants in Big Bear to try when you and fido need to fuel up for more fun at Big Bear Lake, the Village or hiking in the mountains. Not all places with outdoor dinging are pet friendly restaurants in Big Bear, so make sure you call ahead or visit one of these for good food with your furry friend when you stay at your vacation rental in Big Bear.
Here are top dog friendly Restaurants in Big Bear Lake, CA:
Nottingham's Tavern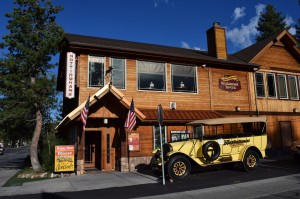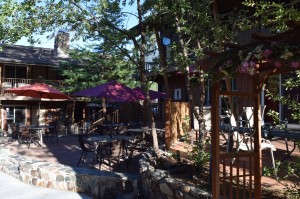 Bring your dog to Nottingham's Tavern in Big Bear Village and enjoy dining on the patio. The weather is beautiful this time of year with sunny days and mild temperatures. Breakfast is served until 3 p.m. everyday with delicious options like the Sherwood Omelet with tomatoes, mushrooms, onions and cheese, or fill up on pancakes and eggs. Lunch options include entree salads, hamburgers, wraps and melts. Nottingham's Tavern is located near the Big Bear Village at 40797 Big Bear Blvd, Big Bear Lake, Calif. 92315
Alpine Country Coffee Shop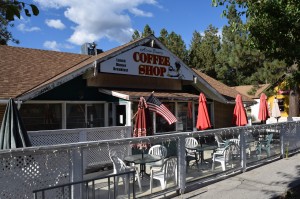 With over 200 menu options, you are sure to find something everyone will enjoy for Breakfast, Lunch or Dinner and is easy to get to from your Big Bear cabin. Featuring an outdoor patio with plenty of seating and umbrellas, this is a great dog friendly restaurant option in Big Bear Lake.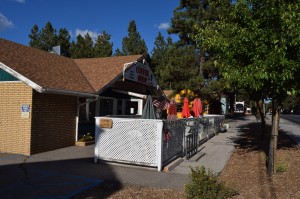 You can call ahead and pick-up your order or just pull up a seat. The Alpine Country Coffee Shop in Big Bear is located at 41546 Big Bear Blvd., Big Bear Lake, CA 92315
BLT's Sandwich Bar and Grill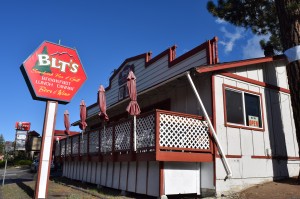 BLT's is so dog friendly, you can upload a picture of your dog on their website! Forget cooking in your vacation rental in Big Bear and fill up on homemade quiche, sandwiches or swing by on Wednesday nights for $1 tacos and $2 domestic beer.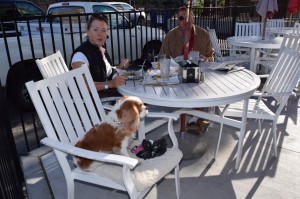 You and your furry friend can dine in comfort on the patio at this dog friendly restaurant in Big Bear. 41799 Big Bear Blvd, Big Bear Lake, CA 92315
The Broadway Cafe
The Broadway Cafe in Big Bear features an all-you-can-eat pancake, egg, sausage and bacon breakfast every Sunday for only $6.50. When you get ready to leave your cabin rental in Big Bear, stop by and fill up before the drive home.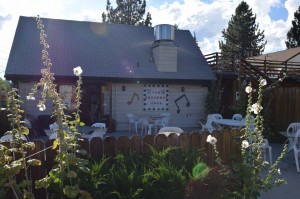 It's a great option for dog friendly dining on their patio for grilled chicken and huge juicy burgers as well. Located next to the CATS Warehouse Theater, this Big Bear dog friendly restaurant will leave you begging for more. 1117 W Big Bear Blvd, Big Bear, CA 92314
Destination Big Bear has several pet-friendly cabins in Big Bear to make your vacation rental enjoyable for the whole family. Give us a call at (909) 752-0234 to speak to one of our experienced staff to plan the perfect getaway. We have budget cabin rentals as well as luxury cabin rentals in Big Bear that are perfect for just a couple people or a large family and your dog.