B's Backyard Bar-B-Que
B's Backyard Bar-B-Que is now The Pines Lakefront, the perfect place for a beautiful breakfast, lunch or dinner.  You can still stop by B's Boathouse (separate from The Pines) for a lake front drink.
B's Backyard Bar-B-Que is a perfect destination when staying in Big Bear Lake, California. Head out onto Big Bear Lake in your pontoon rental or your own boat and try this local favorite restaurant.
Breakfast on the lake in the cool summer morning, eating BBQ ribs as the sun goes down. Something about the San Bernardino National Forest mountain air gives you an appetite for eating and spending the day at B's Backyard Bar-B-Que!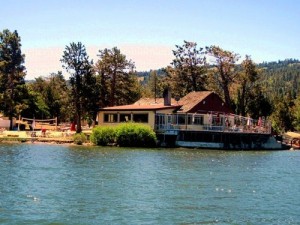 Start the day out having an amazing breakfast before climbing into your boat rental on Big Bear Lake for the day. B's Backyard BBQ has B's Boathouse that will hold up to 40 boats located right on the property so you can dock your vessel right on site!  It's an easy drive from Big Bear Village, your luxury cabin rental, Snow Summit and is part of the pet friendly community.
After a few hours of boating, tubing, hanging out in the sun, head back to the slip for the day and eat some lunch. The pulled pork plate with one of B's Backyard Bar-B-Que famous bloody mary's is delicious. Friends can share the BBQ combo plate and the kids of course can have chicken tenders.
Adult refreshments are also available, or decide to just to make the day of at B's Backyard Bar-B-Que with plenty of family entertainment and fun things to do in Big Bear. Play volleyball on the court next to Big Bear Lake, try playing horseshoes, and waitress are ready to serve all the local favorite food and beverages.
Enjoy the day at B's Backyard Bar-B-Que located at 350 Alden Road, Building A, Big Bear Lake (909) 866-5400.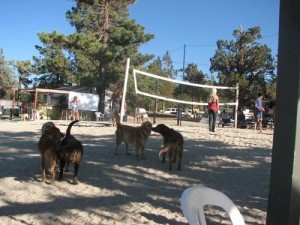 To book your Destination Big Bear Cabin Rental, call (909) 752-0234.  Destination Big Bear has cabins conveniently located near Bear Mountain Golf Course, Snow Summit, Big Bear Mountain, Big Bear Village, and Big Bear Lake.  We have cabins for every budget from cheap cabin rentals to luxury cabin rentals. Ask about pet friendly cabins and activities to do in Big Bear Lake.