A Family Fun in Big Bear Lake Outdoor Adventure Days
Friends of Big Bear Valley & The Discovery Center Host
A Family Fun Weekend Called Outdoor Adventure Days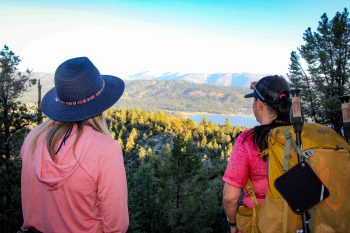 Bring the whole family for this FREE Friends of Big Bear Valley annual event featuring all things outdoor and all things adventure! One of the best Family Fun options in Big Bear Lake! Both educational and exciting for the whole family and COMPLETELY FREE! Enjoy learning about the beautiful plant life and wildlife species of the Big Bear Valley while engaging in workshops and activities! Outdoor Adventure Days prides themselves on being one of the best events for outdoor recreation and education and is vast in options. Activities include bird watching, boating tours on the lake, guided bike rides, eagle spotting & nest viewing and so much more! Guided hikes will be provided by local trail experts, including Big Bear Hiking Adventures!
The Family Fun in Big Bear does not stop there, a free paddle boat tour and kayak tours give you a whole new angle of bird watching! Because the lake is where the eagles like to go fishing too! Let Outdoor Adventure Days be your one stop shop for all things adventure and join in on this incredible, One-Time-a-Year Event!
Find a Cabin Here are some of the Activities and Workshops Offered:

Enjoy the Lake — Paddlewheel boat tour around the lake, pontoon boats, kayaks, canoes and standup paddle boards
Guided Bike Rides — On forest trails or paths around Big Bear
Guided Hikes —Samples of trails around the valley
Birding —Walk to see/identify Bear Valley birds 
or tour by boat to see/identify lake birds
Eagle Family Fans —View Jackie & Shadow's nest with eagle experts on hand and on Sunday morning join the Eagle Fan party!
DISCOVER HIKING & BIKING IN BIG BEAR
Also, Check Out OAD Eagle Fan Party, on Sunday, Aug 21, from 10-12