Thank You to the Big Bear Radford Firefighters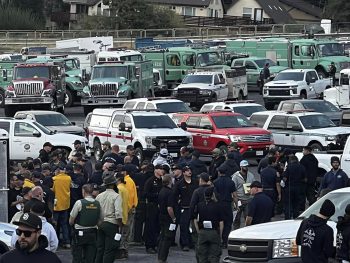 Destination Big Bear would like to take this time to thank the many men and woman who fought to protect our lovely mountain home! Thank you to the Radford Firefighters and crews of BBMR employees that put in the work to help protect Big Bear! Without your dedication and sacrifice many who were ordered to be evacuated could have lost their homes in this devastating fire. We are truly grateful for such an amazing team of protector and an incredible community surrounding you in support.
Radford Fire City Council Meeting
Many entities were recognized in the council meeting where Big Bear Lake Mayor, Rick Herrick, presented certificates of appreciation to first response teams that worked on the Radford Fire. Representatives of several lodges and private home rental agencies were recognized by Visit Big Bear for stepping up to house more than 800 firefighters and crews. First responders received a standing ovation during the Big Bear Lake City Council meeting on Sept. 19.
The Community Thanks the Big Bear Radford Firefighters
In collaboration with other Vacation Rental Management Companies and Visit Big Bear, over 700 Firefighters were placed in comfortable accommodations over the weekend during the rain storm. Thank you to our amazing staff for working the extra hours and to our Destination Big Bear Homeowners for making this possible.
MORE INFO ABOUT THE BIG BEAR RADFORD FIRE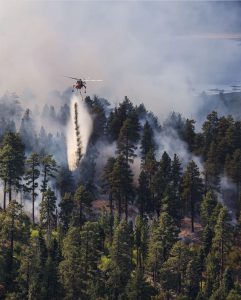 In addition to the now, 1,000+ acres of land, structures at Snow Summit and Bear Mountain were threatened. Evacuation orders have been lifted and local residents of the Moonridge neighborhood and Big Bear Lake near the village are able to return home safely. The cause is still undetermined at this time. The exact location was Converse Creek drainage in the Santa Ana River watershed in San Bernardino County CA. Now that the fire has wiped clean a vast majority of brush and trees, a new threat rears it's ugly head. With our rainstorms coming in from the south, expect landslides in the HWY 38 area. Visitors and residents are urged to please avoid the area when traveling to and from Big Bear Lake. HWY 330 or HWY 18 are suggested alternate routes.
Current Information about the Radford Fire can be found at:
Updated Radford Fire Information
CalTrans Highway Lookup for Current Road Conditions
Other Big Bear Lake News can be found HERE