Sparkle Films in Big Bear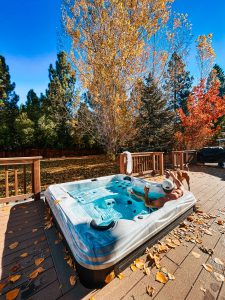 Director and Filmmaker, Cory Sparkuhl enjoys Fall in Big Bear in this GORGEOUS highlight video he shared while collaborating with Destination Big Bear! Sparkle Films in Big Bear, can you believe it?! He came during the best time of the fall season while the trees were shedding vibrant colorful leaves! He enjoyed the many cabin amenities of our cabin Snow Creek! For those of you who do not know about Sparkle Films, he is an Orange County based Creative Director and Filmmaker who makes Commercial video Production and weekly videos with artistically edited shots and unique content! You can watch his Big Bear adventures on his Instagram.
Check out more collaborations like Sparkle Films in Big Bear, HERE!
Are you a social media influencer, film crew, celebrity, athlete, or just plain want to host a giveaway to your following? Collaborate with us! Become an affiliate today. CLICK HERE for more info! We work with many different entities to provide lodging in exchange for collaborative exposure!
Find a Cabin
On Instagram while he visited, he documented Big Bear Fall in an amazing video! He wrote us a review saying:
I had an incredible experience in Big Bear that surpassed all my previous trips. Snow Creek, a stunning and expansive home nestled in downtown Big Bear, made our stay unforgettable. Although we were only a group of four, the spaciousness of the house could easily accommodate up to eight people. Destination Big Bear truly delivered on this one, providing us with a cozy home equipped with all the amenities one could ask for, including a fantastic hot tub. Moreover, the backyard offered ample space for families and even our furry friends to enjoy. Without a doubt, we will be returning to this hidden gem in the future.
Snow Creek- 4 Bedroom 2.5 Bath 11 Occupancy

This home boasts a large backyard and cozy accommodations suited for large groups or multiple families! Horseshoe Pit and Spa with BBQ on the back deck! Perfect for hosting a friend getaway or family gathering! Pool table in the living room! Quick walk to the lake and conveniently located near town.