Maria Breese at Chalet Onyx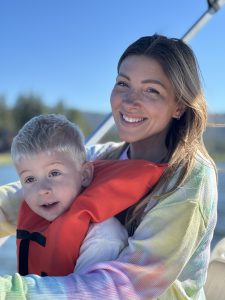 Maria Breese, AKA Maria Breeskin on Instagram stayed with Destination Big Bear at our cabin Chalet Onyx! She and her family enjoyed family fun in the sun for one magical, lake-filled weekend! She has stayed with us before and enjoys family time, and hubby time in the Big Bear Valley. She stayed with us for Valentine's day and ran a giveaway for a lucky family to stay in the same cabin! Her favorite part of her stay was getting in cuddle with her little ones, boating, and having a nice, quiet place to retreat after all of the fun in the sun!
You can find her weekly adventures on her Instagram. Check out the home she stayed in!
Check out more collaborations like Maria Breese at Chalet Onyx, HERE!
Are you a social media influencer, film crew, celebrity, athlete, or just plain want to host a giveaway to your following? Collaborate with us! Become an affiliate today. CLICK HERE for more info! We work with many different entities to provide lodging in exchange for collaborative exposure!
Find a Cabin
On Instagram while Maria Breese was at Chalet Onyx she enjoye the game room, open windows overlooking the forest and jacuzzi deck, and comfortable accomodations for her lamily, here is what she said:
We had the best time staying at #chaletonyx! Many thanks to @destinationbigbear for the stay! We love you!
Book Chalet Onyx NOW!
Chalet Onyx-
3 Bedroom 2 Bath 8 Occupancy

Wonderful Moonridge Location! Mountain Views! Hot Tub! Pool Table!
Chalet Onyx is a stunning 3 Bedroom, 2 Bathrooms, 3 Living Room home, minutes from the skiing slopes during the winter, hiking trails during the summer and a short distance to Big Bear Lake and many other activities. One of our favorites is the Big Bear Alpine Zoo. With room to sleep up to eight people, you'll have plenty of space for everyone.