Life of Nike Dreamwood Lodge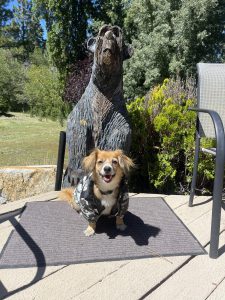 The cutest, most stylish dog on Instagram, Nike, and his family came to stay with us in Big Bear and had a Doggie Getaway at our cabin Dreamwood Lodge! He and his family enjoyed this much-needed and restorative getaway. He has been all over the place in his travels and Big Bear was the perfect Pet Friendly, family getaway for them. In case you're not familiar with Nike and his family, he is one of social medias best traveled and best dressed dogs! His family posts about their travels, finds the best food and dog treat brands, adventures, and seeks out the TOP DESTINATIONS for dog friendly places. So what better stay than with Destination Big Bear!
You can find his weekly adventures on his Instagram. Check out the home he stayed in!
Check out more influencer collaborations like Life of Nike, HERE!
Are you a social media influencer, film crew, celebrity, athlete, or just plain want to host a giveaway to your following? Collaborate with us! Become an affiliate today. CLICK HERE for more info! We work with many different entities to provide lodging in exchange for collaborative exposure!
Find a Cabin
On Instagram while Andrea and Nike were staying at Dreamwood Lodge she wrote:
Cabin rules: Smell the fresh air, enjoy nature, nap often, and create memories. ✨
.
@destinationbigbear is an amazing guide to booking a dream cabin in big bear! We had a wonderful time exploring big bear and coming back to our cabin playing games, watching movies, relaxing in the hot tub, & making memories.
She reached out to us after her stay and wanted to let us know that quote, "We absolutely loved collaborating together… our stay a Dreamwood Lodge was truly a DREAM. The house was beautiful, comfortable, and had so many amenities to enjoy! We loved the hot tub & movie theater so much it was such a highlight of our trip to unwind after a long day of exploring big bear! We can't wait to go back!"