Andrea Amatte in Big Bear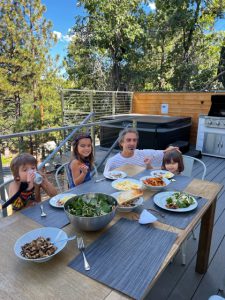 Andrea Amatte is back in Big Bear and had an EPIC stay at our cabin Capanna 693! She and her family enjoyed this much-needed and restorative getaway. She's been all over California during her travels and she loves coming to stay with Destination Big Bear to slow down and enjoy family time. This is her second time back with us! In case you're not familiar with Andrea, she's a latina travel blogger and shares her recipes, beauty tips, family trips & beyond. You can find her weekly adventures on her Instagram. Check out the home she stayed in!
Check out more influencer collaborations like Andrea Amatte, HERE!
Are you a social media influencer, film crew, celebrity, athlete, or just plain want to host a giveaway to your following? Collaborate with us! Become an affiliate today. CLICK HERE for more info! We work with many different entities to provide lodging in exchange for collaborative exposure!
Find a Cabin
On Instagram while Andrea Amatte was in Big Bear she wrote:
Gracias @capanna_693 por invitarnos escapada tan necesaria y reparadora! Thank you for inviting us to this much-needed and restorative getaway.
Her Cabin Getaway was at Capanna 693, Check out their instagram here!