Kid Friendly Big Bear
Chase is a six year old from Laguna Beach who is one of the most active kids I have ever had the chance to meet. Chase and his Dad came up to stay in a Big Bear cabin rental for the weekend over Labor Day weekend in Big Bear Lake.  It's kid friendly Big Bear – fun guaranteed!
All he could talk about is all the Kid Friendly Activities in Big Bear and things to do,  it was almost like he had agenda, a mission of some kind to do as many fun events in Big Bear as he could. I made the mistake and asked him what he had planned for the weekend and what he had already done.
It went something like this: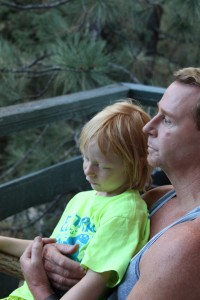 Friday night we drove up the hill in my dad's really cool car, loved the turns and the views and stuff he said. It was cool watching the potato chip bag swell up as we climbed the mountain. His father gave him a lesson in altitude and what it does to your body. Cool stuff for a 6 year old to be learning.
When they got to the Big Bear cabin rental they were staying in, immediately Chase wanted to take his mountain bike for a ride. Sure enough that is what he and his dad did, took a 30 minute ride up around the Big Bear Alpine Zoo. Awesome Day with Dad!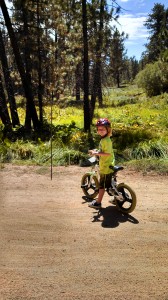 Snow Summit Adventure Park was Chase's very first Big Bear activity on his agenda. After watching the videos on-line the night before, this was for sure something Chase had to do. He and his dad spent the day riding mountain bike. I asked him what he liked about the Snow Summit Adventure Park the most? "I like riding up the hill on the chair lift seeing the lake and trails and stuff" and "I love riding down the hill fast on my bike" he said with the biggest grin on his face.
Saturday brought a whole new day and for Chase. A day at Alpine Slide and Magic Mountain riding the luge run, riding go karts, going on the water slide anything that had to do with adrenaline this young man wanted to do it.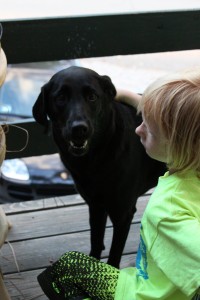 Hanging out with Olivia waiting dinner!
Sunday is normally a day of rest however for Chase it was another day of mountain biking and hiking in Big Bear on the various trails in the San Bernardino National Forest. Chase and his dad took a ride around Big Bear Lake on their mountain bikes then headed back to the cabin rental to hang out with some friends and get dinner.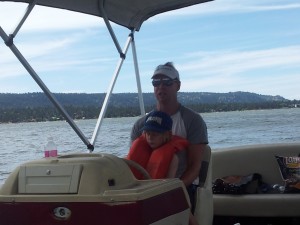 The last day of summer break brought a day of boating on Big Bear Lake. They rented a pontoon boat for the day. While Chase and his father were boating they had the chance to see an American Bald Eagle fly over top of the boat, the Big Bear Pirates Ship on a day cruise, and the Liberty Paddle Boat.
One of Chase's last items on his agenda was to climb the rocks at Boulder Bay in Big Bear Lake and jump off the rocks into the water. Due to the rain, this is one thing that Chase did not get to accomplish, however he told me that he can't wait to come back to Big Bear to have the chance to jump off those rocks at Boulder Bay again.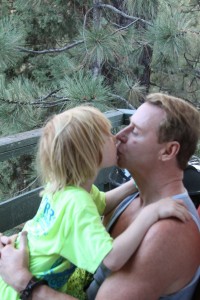 I am sure the memories that this young man will last for a lifetime with so many Kid Friendly Activities in Big Bear.
It was neat to see the bonding between a father and son on an adventure they both enjoyed.
To book your Destination Big Bear Cabin Rental, call (909) 752-0234.  Destination Big Bear has cabins conveniently located near Bear Mountain Golf Course, Snow Summit, Big Bear Mountain, Big Bear Village, and Big Bear Lake.  We have cabins for every budget from cheap cabin rentals to luxury cabin rentals. Ask about pet-friendly cabins and activities to do in Big Bear Lake.