Big Bear Alpine Zoo Twilight Tours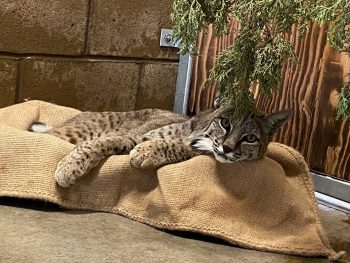 Join an hour long guided tour of the zoo with a focus on nocturnal animals. Hot chocolate and cookies are available. The Big Bear Alpine Zoo Twilight Tours take place after regular business hours have closed, so this is a special opportunity to see the animals that you won't see when you come in the day time. Nocturnal animals tend to come out after sunset when the park is closed. Luckily Spooky Season is the best time to enjoy these animals and learn all about our night-time animal friends! All October Long!

INFO ABOUT THE BIG BEAR ALPINE ZOO
The Big Bear Alpine Zoo is a rehabilitation facility offering injured, orphaned and imprinted wild animals a safe haven; temporarily while they heal or permanently as they are unable to survive on their own. We are extremely proud that the vast majority of animals brought to us for rehabilitation are successfully released back into their native environment. Those that remain with us on exhibit are either too injured or have been imprinted by humans and cannot be released back into the wild to care for themselves.


Twilight Tours Big Bear Alpine Zoo
Important Info & Contact Info:
BIG BEAR ALPINE ZOO
747 CLUBVIEW DR.
5 PM, 5:30 PM, 6 PM, & 6:30 PM
909-584-1299

$22 PER PERSON
Book online at BigBearZoo.org
The zoo is open year round with special considerations during winter months.
For more information:
Visit BIG BEAR ALPINE ZOO
Visit their website at www.bigbearzoo.org