Extreme Mountain Biking at Big Bear's Snow Summit's Adventure Park
As the warming sun melts the final indication of the winter, a whole new season of adventure is here. Snow Summit Adventure Park plans on opening April 18th and snow showers are packing down our bike trails this week! I reflect on my trip last year at the newly renovated bike park. While you are visiting Big Bear one of the things that you have to do if you are an adrenaline junky is go check out Adventure Park at Snow Summit. It is was a blast.
Find a Cabin
This is a mountain bike experience like no other. If you don't have a bike or proper equipment along with you, Snow Summit Adventure Park can provide you with a bike, protective gear. This is all included in your lift ticket price. More about that later. I rented the Trek Slash for the day, and it was awesome to say the least.
After signing all the disclosures and a brief safety walk through with the tech at Snow Summit,  you are off to the Snow Summit Adventure Park.
On the way up the mountain in the fast chair lift we looked over our shoulder and what an amazing view of Big Bear Lake.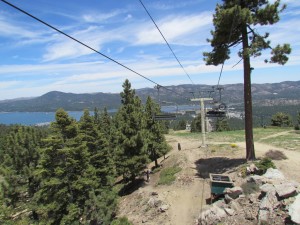 What a great way to start out our ride with a view like that. Once we got off the chair lift we decided to start with Westridge trail. This trail is geared towards riders with a little more than beginner experience. The trail that was designed by Gravity Logic was way too cool. Not a very difficult course to ride, but ithad some great features that Gravity built. High bank turns that are built nicely into the mountain, plenty of step ups and bridges. One of the coolest table tops I have ever seen was a 22ft high to a roller making a cool feature on this run.
Remember when you are taking a trail for the first time take it slow and easy, check the trails and the terrain of the mountain before you "hit the throttle" on the way down.
We took a couple of runs on this trail before we headed back to our Big Bear vacation rental for a quick bite to eat before we went on for the afternoon's
riding session.
For our afternoon ride we decided to change it up and hit the Miracle Mile and Cruiser Trails. I can't tell you what trail I like the best they all have their own uniqueness.
The folks at Snow Summit are awesome! They hooked us up with some amazing equipment to rent for the day, provided us with amazing trails to ride on.
If you are in Big Bear renting a cabin, visiting for a day, or live there, I highly,highly recommend that you check out Adventure Park at Snow Summit.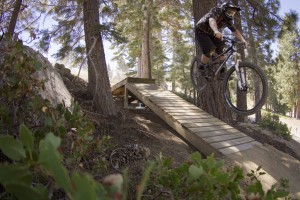 What a day we had. Thanks Big Bear. Forget the cold weather, we cannot wait for another season of Summer fun!
To book your Destination Big Bear Cabin Rental, call (909) 752-0234.  Destination Big Bear has cabins conveniently located near Bear Mountain Golf Course, Snow Summit, Big Bear Mountain, Big Bear Village, and Big Bear Lake.  We have cabins for every budget from cheap cabin rentals to luxury cabin rentals. Ask about pet-friendly cabins and activities to do in Big Bear Lake.