Grill and Chill in Big Bear
The Grill portion of the event is a sanctioned BBQ competition and a state championship event and general admission is FREE  – this is great for families as they host several activities for children such as a rock wall and face painting. The competitors will be grilling their choice of brisket, chicken, and pork, and trust us, the food is definitely top tier as this is a national competition. The Chill part of the event is just as fun and we love that a local brewing company- Big Bear Lake Brewing Co as well as the Lake Arrowhead Brewing Co and Three Marm Brewing which are all local to the San Bernardino mountains will be there as well as a host of other popular breweries serving their special brews, brand favorites, and craft beers.   Sunday Night Fireworks

Find a Cabin
Memorial Day weekend in Big Bear is a Big Deal for two reasons. We come together as most towns do to acknowledge U.S. veterans, the servicemen that we have lost and we proudly support our active duty service members with multiple events including services in the park and banners running down Big Bear Boulevard and throughout the village. We also know that Memorial Weekend is typically the kick-off of BBQ season which is why the annual Grill and Chill is a must for everyone that is in Big Bear Saturday, May 27th, and Sunday, May 28th. The event runs from 10 AM to 5 PM and is open to the public on both days.



Live music will also keep the event in great spirits with the likes of the Morgan Leigh Band from San Diego, The Stungrenades based out of New Zealand, and Twisted Gypsy another local group from Southern California. These 3 groups will bring a variety of music to the event that can only add to the excitement of welcoming the warm weather and fun in the center of the Big Bear Valley which is always a wonderful place to be.
 If you are looking to sample the competitor's delicious BBQ you can also purchase a ticket for $25 per person that will include a wristband, beer tasting mug and 10 tickets for your choice of BBQ or Brewery stations. The hosts also offer an unlimited pass that gives you access to all brewery and BBQ stations for the day at $80 per person. With over 40 BBQ stations and 30 brewing stations, there will be plenty of Grill and Chill choices to choose from.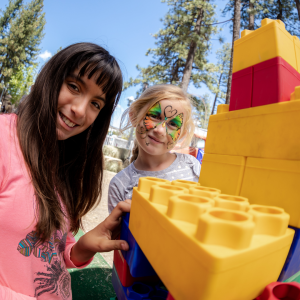 Don't forget to throw on a hat and pack your sunscreen. Big Bear is always about high-altitude fun which means we are much closer to the sun and with that comes the potential for sunburn. We also encourage everyone to walk around the village before or after the event and enjoy some of the offers you receive from Destination Big Bear just for staying in one of our cabins. The atmosphere in Big Bear is just as fantastic in the Spring and Summer as it is in the winter and we know you will love it. 
As you take in the event and enjoy the warmth and sunshine we hope that if you opt to experience the BBQ and Beer tasting you can take a moment and raise your glass for all of the brave men and women that we have lost in our armed forces.
Dates: Sat & Sun, May 27 & 28, 2023
Location: 630 Bartlett Road in The Village at Big Bear Lake
Hours: 10 AM – 5 PM both days
Tickets: Pre-purchase food & drink tickets or purchase at the event