5 Kid Friendly Activities in Big Bear Lake
Big Bear lake is a family friendly, 4 season mountain town, There are so many kid friendly activities in Big Bear lake for the Whole Family to enjoy. Whether you come up for a holiday or just a weekend getaway in a vacation rental in Big Bear Lake, there is plenty of fun and memories that will last forever.
Hiking up Snow Summit
Big Bear Lake is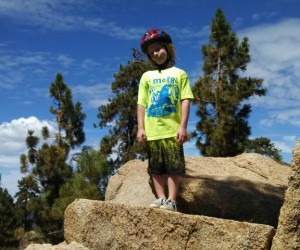 It could be tiring for kids under 8 though. The great thing is once you get to the top you can take photos of the entire valley. Also Get a lunch and a beer.
Big Bear Discovery Center
One of the best experiences kids can have while staying at a Big Bear Lake cabin rental is a trip to the Discovery Center. Located on the north shore, the center hosts numerous free or inexpensive kid friendly activities for all ages. Education is mixed with arts and crafts, nature walks, story time and hands-on displays. Kids can get up close and personal with a stuffed real bear, mountain lion and living small animals. Outside you will be able to take in the forest on shorter trails or learn about the national forest in the Nature Discovery Zone. Visit www.mountainsfoundation.org for the calendar of events and more information. The Big Bear Lake Discovery Center is pet friendly and is located at 40971 North Shore Drive/Hwy 38, Fawnskin CA. Hours are Thursday-Monday 8:30-4:30 and admission is free.
Big Bear Alpine Zoo
Lions and Coyotes and Bears, Oh my! Kids will have a great time seeing and learning all about the forest animals at the Alpine Zoo. The zoo is a rescue haven for animals that have had an unfortunate past in the wild or captivity with humans. Kids can learn about natural habitats, what animals eat, and how they can help protect animals in the wild. Bring your camera to capture the joy as your kids see bald eagles, grizzly bears, mountain lions, hodgehogs and many more animals including reptiles and bugs. Tickets are only $12 for adults, $9.00 for children 3-9 and free for kids 2 and under. Proceeds go to a great cause and they host many special events throughout the year. Take a look at their website at www.bigbearzoo.org.
43285 Goldmine Dr, Big Bear Lake, CA 92315, (909) 584-1171
Across from Bear Mountain. Street Parking. Tickets: Adults (11+) $12 Seniors (60+) $9.00 Children (3-10) $9.00 Children (under 2) Free Military (With ID) $9.00
Fishing
Fishing is one of the best kid friendly activities in Big Bear Lake. There are several charter companies that will take the whole family out for a day of fun, and you might even catch dinner to cook at your cabin rental in Big Bear Lake! Let the local experts take you to the best fishing spots on the lake and teach you a few tricks. Once the fish bites the worm your kids will feel that sense of excitement and accomplishment that only comes from patience and persistence. Get ready for a few hours or even a day of fishing on Big Bear Lake. Fishing licenses are required for anyone over 16 years old and can be purchased at the boat rental facilities, along with pole rentals and life jackets.
Play in the Snow
During the winter months kids can experience snow! Since most of Southern California is desert, this is a truly special experience that is only a few hours away. Several cabin rentals in Big Bear Lake have small hills to sled down (when mother nature allows) or the whole family can head over to the snow tubing hills or hit the slopes for skiing and snowboarding. Rental gear and lessons are available and the Big Bear Lake resorts are the perfect place for learning with multiple runs and two snow resorts to choose from. Read more about the winter activities in Big Bear Lake HERE.
Alpine Pedal Path
Kids will have a great time on the family friendly Alpine Pedal Path on the north shore of Big Bear Lake. Bring your bikes to your vacation rental in Big Bear Lake or rent one from GetBoards and receive a 15% discount on a bike rental while staying with Destination Big Bear. The pedal path is a 2.5 mile long asphalt trail that is mostly flat with sections that run close to the water, through the trees and is great for getting fresh mountain air. The path is accessible for biking, walking, jogging and rollerblading. The path begins at the Stanfield Cutoff and ends near the Solar Observatory. For bike rentals visit www.getboards.com.
Great Big Bear Cabins for kids
Big Bear Alpine Zoo
Alpine Slide at Magic Mountain
800 Wildrose Ln
Big Bear Lake, CA 92315
(909) 866-4626
Water slide, bobsled, chair lift, mini golf, go-karts and arcade
Bowling Barn
40625 Big Bear Blvd
Big Bear Lake, CA 92315
(909) 878-2695
Glow Bowling, arcade games and a snack bar
Big Bear Discovery Center
40971 North Shore Drive/Hwy 38
Fawnskin, CA 92333
(909) 382-2790
A great place to learn about the local flora and fauna and get information about hiking trails. Weekend activities for the whole family.
Meadow Park
41220 Park Ave
Big Bear Lake, CA 92315
Turn left at McDonald's. Great park for all ages on the shore of Big Bear Lake. Includes swings, slides, basketball, tennis and more.
Village Theaters
602 Pine Knot Ave
Big Bear Lake, CA 92315
(909) 866-5115
Tickets: General $10 Children (11 & under) $7 Seniors (60+) $7 Matinee $7 Tuesdays $5
Restaurants:
Maggio's Pizza
42160 Big Bear Blvd
Big Bear Lake, CA 92315
(909) 866-8815
Tasty selection of pizzas, sandwiches, calzones, and salads in a family friendly environment.
Denny's
41196 Big Bear Blvd
Big Bear Lake, CA 92315
(909) 866-7842
Nottingham's Tavern
40797 Big Bear Blvd
Big Bear Lake, CA 92315
(909) 866-4644
Family friendly menu with a variety of options. Dog friendly patio seating in the warmer months.
Teddy Bear Restaurant
583 Pine Knot Blvd
Big Bear Lake, CA 92315
(909) 866-5415
CASH ONLY. Great menu with tons of options. A Big Bear favorite since 1944
Red Box Locations:
Von's
42170 Big Bear Blvd
Big Bear Lake, CA 92315