Fourth of July Firework Safety in Big Bear
Fireworks are a fourth of July favorite for most people, and we understand why. The gorgeous display in the sky can give you child-like wonder and excitement. We want our guests to be able to make the most out of their stay here in Big Bear so we want to provide you with some tips and local knowledge.
First and foremost being the fireworks themselves. Big Bear happily provides the annual Firework Spectacular show that displays over the lake, known as one of the best and biggest shows in Southern California! But the city of Big Bear and the Big Bear Fire Department ask for everyone's help in keeping the holiday safe, not only for yourself but for your surroundings and our beloved forest. ALL personal fireworks are illegal in Big Bear, including the "safe and sane" fireworks. You are urged to call 911 should you see anyone violating this law. You can face citations with up to $1,000 in fines for firework violations. We know even the small fireworks such as sparklers are a very popular fourth of July product, but even these are dangerous and illegal. While these may seem easy to use and harmless, sparklers burn up to 1800 degrees. One awry spark from a firework can cause catastrophic repercussions including burns, catching clothing on fire, and on a larger scale can cause a wildfire. Every year, emergency rooms around the country receive approximately 11,000-13,000 firework-related injuries. We want our guests and all of Big Bear to be able to enjoy a fun, safe holiday. We look forward to seeing you all out at the Firework Spectacular show!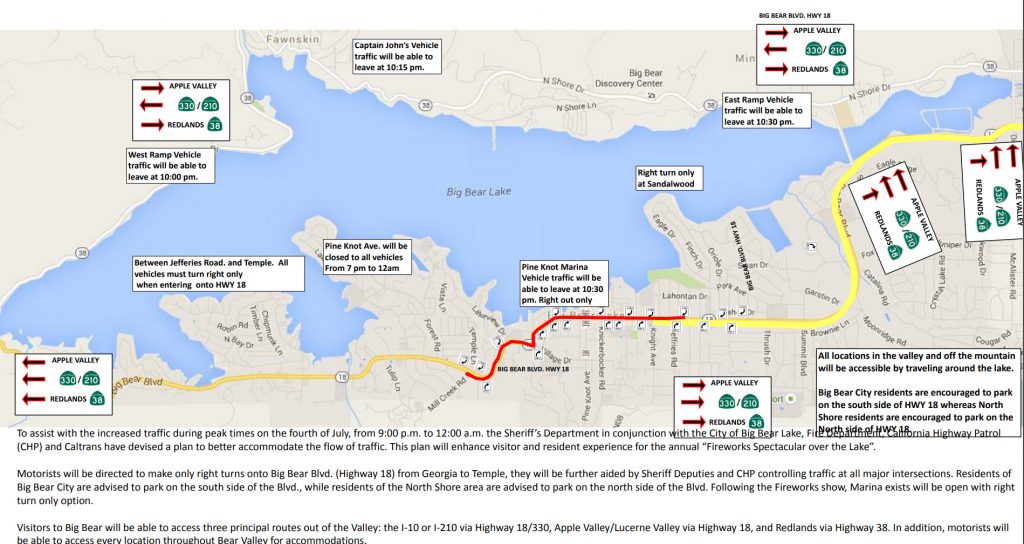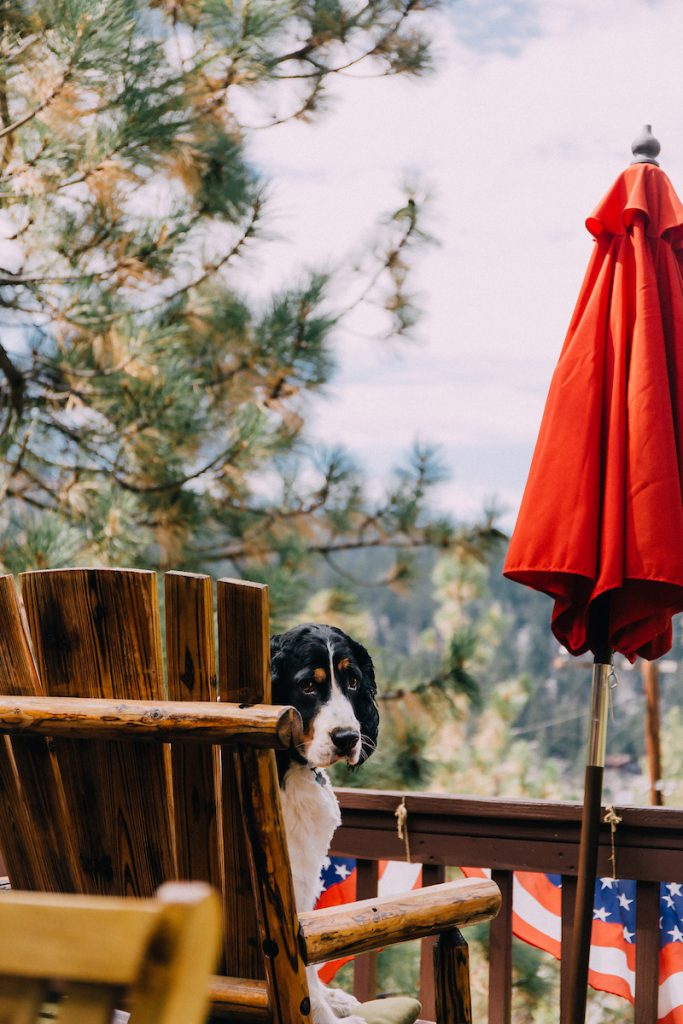 We certainly can't forget about our furry guests as well! It's no secret that loud noises, such as fireworks, can cause a not-so-positive impact on your pets. The sounds can leave them feeling frightened and anxious. So we wanted to provide you with some tips on keeping your pets calm and safe this holiday. First being to make sure your pets have some sort of identification. Meaning a collar with tag, or even microchips. Also, make sure this information is up-to-date with contact information. Some dogs definitely are escape artists and could feel the need to run away in attempts to find somewhere safe if they get scared while the fireworks are going off. Making sure they have proper identification and contact info will help to ensure that they are returned to their families safe and sound should this occur. Another tip is to keep your pets indoors. This can help to lower the chance of escaping but also slightly dulls the sound. If inside, they can also find somewhere safe and cozy to snuggle up, helping them to feel more at ease. Having a bed of some sort, blankets, and even toys can really help with this. You will even find that your pet will typically react similarly to babies when swaddled. While this might not work for all pets, try wrapping them up in a blanket with you to help them feel secure. This helps to relieve their anxiety. You can also try leaving the tv or radio on in attempts to drown out the sound of the fireworks and distract them. If you try this, also try closing all curtains/shades trying to eliminate as much outside sound as possible.
Help us keep this Fourth of July a safe and fun holiday for all. Do you have any other tips for keeping your pets calm during fireworks? We'd love to hear them! And we can't wait to see your firework photos from the big show. Be sure to tag us in your Instagram photos @destinationbigbear
Please also note that the city will have a traffic control procedure for the holiday.