Angela Los Angeles Escapes to Big Bear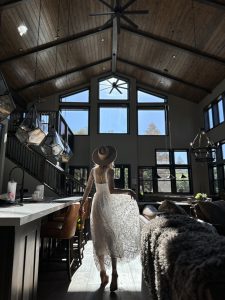 Angela Los Angeles Life, a travel, fashion, and art influencer on Instagram stayed with Destination Big Bear at our cabin Big Sky! She and her guests enjoyed architectural magic of the cabin while soaking in the expansive ceilings and overall aesthetic of the property. From inside to outside, she felt inspired by her surroundings. Her favorite part of her stay was getting to stretch out and relax in such a large and inviting atmosphere.
You can find her weekly adventures on her Instagram. Check out the home she stayed in!
Check out more collaborations like Angela Los Angels Escapes to Big Bear, HERE!
Are you a social media influencer, film crew, celebrity, athlete, or just plain want to host a giveaway to your following? Collaborate with us! Become an affiliate today. CLICK HERE for more info! We work with many different entities to provide lodging in exchange for collaborative exposure!
Find a Cabin
On Instagram while Angela escaped to Big Bear she enjoyed the architecture of the cabin, highlighting your ability to stretch out and relax. Indulged in the cabin's natural light and how overall artistically gorgeous her Big Bear stay was:
Ahh reminiscing about our visit with Destination Big Bear! What a spectacular 5 star location and cabin! The large cathedral ceilings made the space feel endless and there were so many cozy nooks to indulge in at night for down time and relaxation. The glorious natural light was my favorite and poured into all the rooms generously! As a content creator, aesthetics are important, and I have to say that every single corner of this cabin sang luxury! What an incredibly photogenic space to stay in! Thank you Destination Big Bear for hosting our stay!! We can't wait to come back!!