2019's Big Bear Lake Water Level
AHHHHH breathe it in! It is finally that time of year again here in Big Bear Lake California when the snow from the ski resorts & surrounding mountain peaks melt and the Big Bear lake level starts to really show how full our lake can actually get when it has what it needs, water! This winter here in Big Bear Lake, CA we had a significant amount of rainfall and snow during the winter season which has helped tremendously with the current level the lake is now reporting.
Big Bear Lake itself is a California tourist destination that is sure to ignite and excite an adventurous spirit in the young and old alike. Let yourself relax around the long stretch of the 22 miles of shoreline to choose from to either BBQ, fish, or just relax. The possibilities are endless!
But first, there is so much that went into making Big Bear Lake all that it is known for in today's day and age. Let us take you on a historical venture through time when Big Bear Lake had only one purpose, and it was not for the fun and exciting recreational uses we all know and love today.
The sole purpose of Big Bear Lake originally was for the use of irrigation to the downhill communities. However, as the popularity for recreational use of the lake began to grow, so did the need for stable lake levels. The only way to maintain a decent lake level year round would be having the Municipal Water District manage and control the use of the lake, and that's just what they did. The M.W.D. purchased the title, which included the lake bottom lying beneath the lake and the surface recreation rights to Big Bear Lake, for $4.7 million in 1977. Now, we still do allow water to be used for irrigation for the downhill communities as a part of the purchase stipulations and have been able to retain the water level needed for the multiple recreational activities.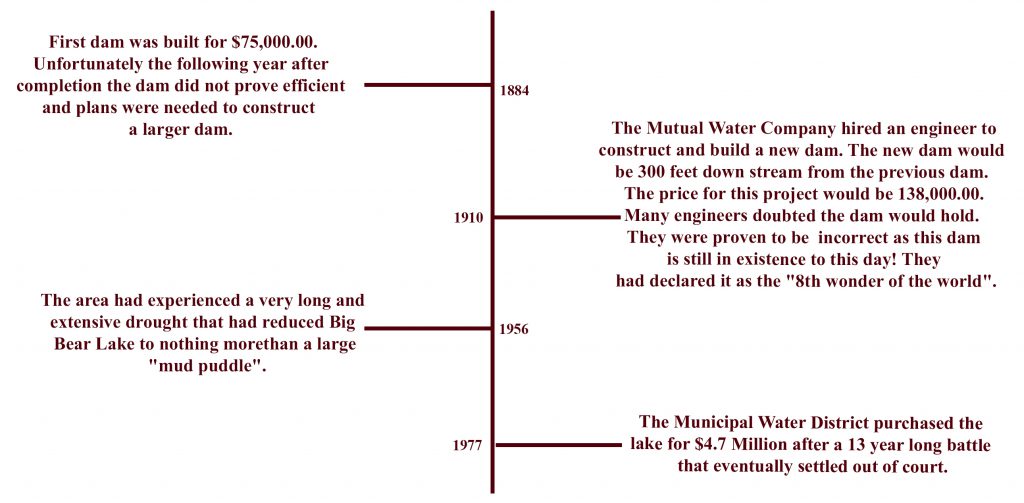 Talk about a lengthy history for our lake! Now to get to down to details about 2019's Big Bear Lake water level. The lake sits at an elevation of 6,743 feet above sea level. It is 7 miles in length & has a 22 MILE shoreline. The distance in width is only ½ mile. The deepest Big Bear Lake can ever get is 72' 4" and while the average level has been set at 35″, it is currently at an astonishing 62'9″ as of April 22nd,2019! The lake is up approximately 10″ higher than last year's average levels, and hasn't been to the level it currently is in 5 years (2014)! I'm sure you can understand how excited the Big Bear locals and visitors alike are to see our beloved lake doing so well.
Since 1980, approximately 32 BILLION gallons of water have been pumped from Big Bear to irrigate Lucerne Valley, which comes out to about 1 1/3 lakes worth. There are plans and projects in the works to recycle and then purify water to use in attempts to not only raise our lake levels fully but also keep them that way. Should all go well and projects are approved, this plan should be in full swing by 2022.
Take advantage of how great our lake is doing, and come to see it for yourself! This year is going to be a prime year for having fun on the lake! With endless options from boating, kayaking, fishing, and so much more. Destination Big Bear has several Lakefront homes to choose from where you can be just steps away from the water! Think of the convenience of staying in one of our lakefront properties where you can walk down to the water and spend the day, and just be steps away from the house should you need snacks, toys, towels, etc. No need to pack the vehicle full of everything you might need for a day at the lake and possibly forget something, instead it's just right there, steps away. We also have a long list of homes that sit higher up and overlook the lake, providing breathtaking views. Just image ending the day with your family, relaxing and watching to sunset over the lake with a spectacular show of colors. Or maybe sip your morning coffee and watch the sunrise bring light over the water.
Take a look at some examples of our great lakefront options…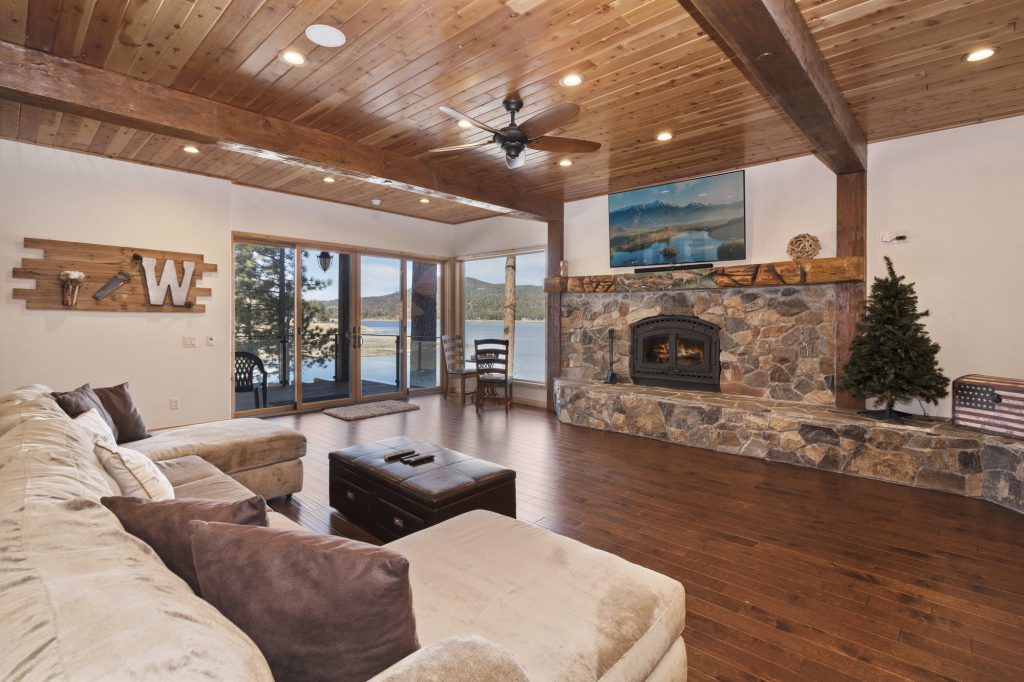 This gorgeous 3 story home provides peace and tranquility while being only steps away from Big Bear Lake. Step inside to find a spacious and open floor plan with a beautiful living room, kitchen, and dining room. In the living room, you'll be able to relax in front of the home's fireplace while being able to take in the views of the lake through large windows.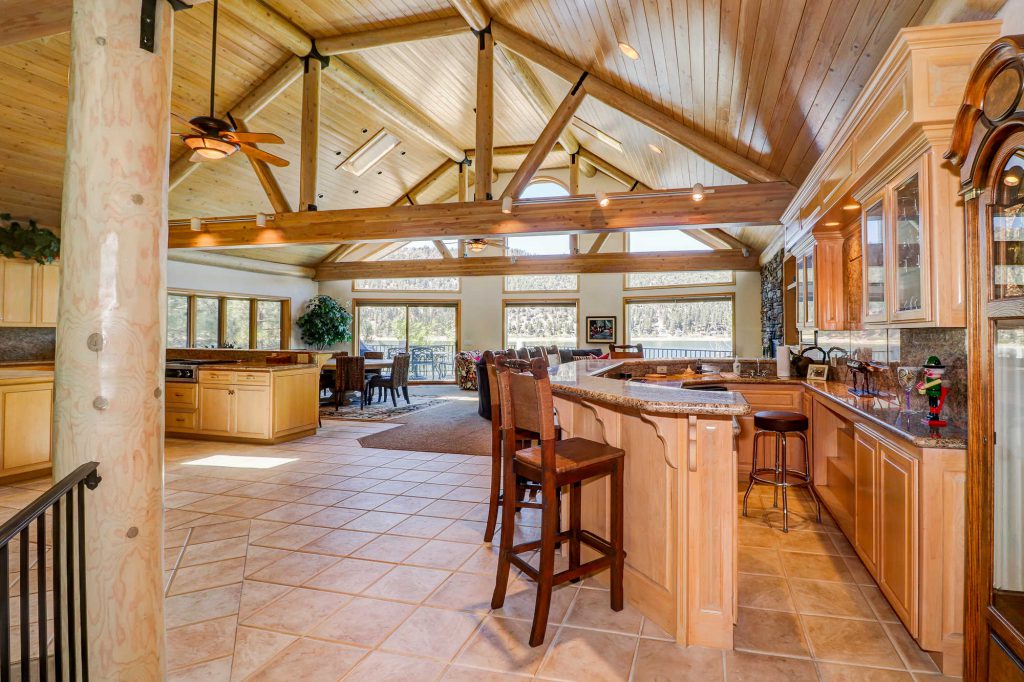 This lakefront retreat was designed for entertaining on your vacation! Includes a large wet bar, spacious kitchen with ample counter space and large center island, and gorgeous lake views from the living room and deck. Head down to the water and enjoy your own small beach and boat dock! The deck will be calling your name during the warmer months when you can enjoy outdoor seating and grilling on the propane barbecue overlooking the lake.

The lakefront dream is yours to have at Lakefront Sunsets on the shore of Big Bear Lake. This single story cabin has wall to wall windows so you can enjoy amazing views from the open living room, kitchen, dining area, and master bedroom. A beautiful place for your year-round getaway. Bring your boat and enjoy the convenience of the 24 ft long 12 ft wide dock!
There are still so many more to choose from! See our Lakefront properties and all they have to offer here and book your stay today! If you have questions about anything or would like assistance in finding the right home for you, call our office and our great booking staff will be happy to help! 909-752-0234