Labor Day Sale at Leroy's in Big Bear Lake
It's Labor Day weekend, and we are almost out of Big Bear cabins for rent, but it's still worth the drive up the mountain or a shopping trip from your vacation rental in Big Bear to stop by Leroy's and get great deals on all things outdoor sports on Leroy's labor day sale!
Leroy's is holding their annual Labor Day sale in Big Bear under the tent at their location on Big Bear Blvd.  Everything, and they mean everything, is 40-60% off original price.  You can find name brand gear like Sorel, Vans, Adidas, Roxy and more.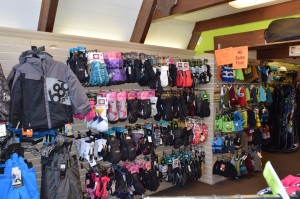 Matt, a snowboarder and has worked for the family business for over 15 years, says "we bring everything in from all 9 stores from the Inland Empire and put it on labor day sale here.  We start the Tuesday before Labor Day for all the locals, and it goes through the weekend."  So how many years have they been doing this? "I think it's like our 29th or 30th year, so a long time.  It started out being mostly snow gear like Sorel boots, but now it includes everything like board shoes and clothing.  Everything you see in the store and outside is on sale for 40-60% off."  Anyone is welcome to stop by to take advantage of the great deals all week and weekend long.
Friendly Staff to Help You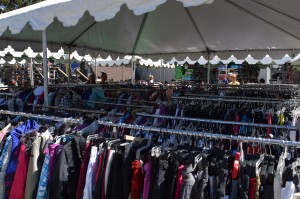 The friendly and knowledgeable staff, albeit camera shy, are on site to help you find what you are looking for.  Cruise through the multiple shelves of shoes, racks of winter coats and even get yourself a new snow board.  Most items are separated by size and gender which makes shopping easy.  Take your purchases back to your Big Bear cabin rental and get ready for your next trip up the mountain when it snows, or for your Christmas vacation in Big Bear!
Ski Goggles At Great Prices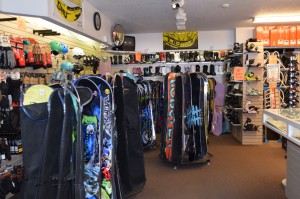 Need new ski goggles for Snow Summit or Bear Mountain? Destination Big Bear's owner, Nick, snagged a great pair for only 60 bucks!  They even have everyday shoes for the non-sporting enthusiast or for when you head back to your cabins in Big Bear.  Winter is coming, and if you are visiting Big Bear from places like Los Angeles, San Diego or Las Vegas, you will definitely want warm winter gear like stocking hats, gloves and a snow proof jacket for your holiday vacation in the coming months in the mountains.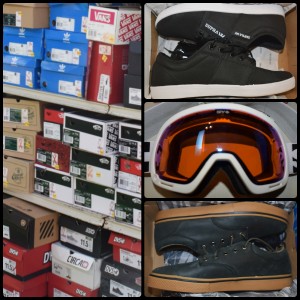 Take advantage of the great savings on top name brands and quality gear now through Labor Day at Leroy's  40560 Big bear Blvd.,  Big Bear Lake, CA  92315.
Book your winter getaway with Destination Big Bear by visiting our website at DestinationBigBear.com or give us a call at (909) 752-0234 and let our experienced staff help you find the perfect Big Bear vacation rental.  We have Big Bear cabins for rent close to Snow Summit, Bear Mountain and The Village.  Make your holiday plans now and get a great deal on a luxury cabin or rustic cabin, and even a pet-friendly cabin.  See you soon!