Classic Cruisers at Get the Burger
Big Bear has several burger restaurants, but only Get The Burger combines old Hollywood, classic cars and delicious food.  Wednesday nights are fun with Classic Cruisers at Get The Burger.
Every Wednesday night, cruise down Big Bear Boulevard and see all the classic cars hanging out at Get the Burger. It's a fun destination for both local Big Bear residents, as well as Big Bear cabin rental visitors.  They have some really cool cars old classic cars on display to look at while you enjoy fresh burgers with names like "The Producer" "Child Star" and "Leading Lady."  Ice Cream Sundays are also on the menu and the food is fresh and made to order.
"I saw three vintage automobiles that I wanted to take a closer look at. First was the 57' Chevy I had an Uncle who owned one man did that bring back some great child hood memories. Purple with flames going down the side.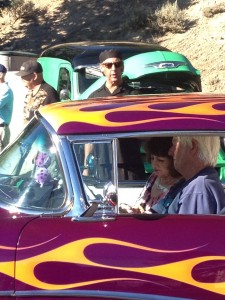 1976 Orange Chevrolet Camaro that was awesome the engine detail was incredible!
The AMC Gremlin – You can see that car almost anytime sitting out front of Get the Burger I think that may be the owners car. One of my old high school buddies had the same exact car." reported one visitor while enjoying a night out from his cabin rental in Big Bear.
If you ever have a few extra minutes on a Wednesday night while you are in Big Bear stop by Get the Burger and check out some cars, have a burger (and they are awesome).
Get The Burger is located at 42151 Big Bear Boulevard, Big Bear Lake, CA (909) 866-8800.