Big Bear Lake Homeowner Influencer Collaborations
Are you considering the donation of your property for an influencer collaboration? What this means is, an influencer/celebrity who has a strong social media following has either chosen your home, or your home fits the needs and criteria for an influencer giveaway. The giveaway is simple. You donate a 2-Night Stay to the influencer, they advertise your home to their large following. We host a giveaway to their followers for exposure on your cabin, and the winner will get a Free 2-night stay. So, 4 nights total in exchange for free advertising and attention for your listing.
Check out our Big Bear Homeowner Affiliate Program
Check Out Author and Social Influencer Gabrielle Stone's Collaboration HERE
Click HERE for more info about what is offered to the Influencer
Destination Big Bear will be managing the entire process with no hassle to you. The influencers that are looking into staying at your properties have to fit specific criteria. They must be contracted to do the following:
Provide at a minimum:
Permanent social media posts, i.e. not just stories or 24 Hour posts across all applicable platforms. (Instagram, Facebook YouTube & TikTok Channels) tagging @destinationbigbear and the home link directly.
Swipe up story links for your follower giveaways (Instagram) both tagging @destinationbigbear AND providing personalized affiliate links and the home link directly.
Approving a blog page/featuring the influencer back linking to both www.destinationbigbear.com and to the home directly.
*All links must be a follow link. "No-Follow" links are not accepted*
In addition, they must agree to pay the home's deposit amount.
HOW WE CHOOSE INFLUENCERS
They must have, at Minimum 20K Followers on Instagram, TikTok, and Facebook. (Whichever is applicable.) What does this mean for your home? When an influencer stays with Destination Big Bear, they are expected to make three posts, share our giveaway posts, and make a high-quality video of your cabin and their experience for all of their following to see. They will give your cabin maximum exposure in exchange for a free stay. This will help generate bookings from their following, market your home on platforms that are outside of our reach, and ultimately bring a lot of attention to your listing. We tend to approve influencers who fit our demographic and target. To ensure we are attracting families and quality guests!
The Giveaway Winner will be contracted to Tag Destination Big Bear and share a link to book your cabin on their social media as well.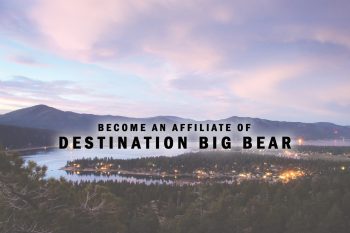 Want to generate your own bookings and save on commission?
Get a customized affiliate link to generate your own marketing and bookings
and earn back $$$ per booking! It's super simple. Click HERE for more info!
Looking for Professional Videography but want to save money?
Our Work-Trade Videographers are available to video your cabins in exchange for 2 Nights! It's much like the influencer program but you get a lot more for your donation! They are contracted to do everything the influencers do PLUS get footage that allows our marketing team access to high-quality video for further marketing your listing which will be used across all applicable media outlets!
FOR MORE INFO OR TO DONATE YOUR HOME FOR AN INFLUENCER STAY OR WORK-TRADE STAY REACH OUT TO:
destinationbigbearmarketing@gmail.com