Cabin Giveaway Survey
ENTRIES FOR THIS GIVEAWAY ARE CLOSED. A WINNER HAS BEEN CONTACTED. Check INSTAGRAM for more giveaway opportunities.
Take our Holiday Cabin Giveaway Survey Below & Enter to WIN a FREE 2-Night Stay at Capanna 693!
Take our Cabin Giveaway Survey. Entering ends 12/29/22 at 5 p.m. PST. ONE lucky winner will be contacted on 12/30/22 at 10 a.m. PST!
*Excludes holidays & weekends. Must be booked 2 weeks in advance. No refunds. No cash value. No re-booking/cancellations. Winner is required to pay the refundable deposit for incidentals.*
More Info About our Giveaway Cabin Capanna 693-
Neighborhood: Upper Moonridge
Bedrooms: 3
Baths: 2
Occupancy: 8
Parking Spaces: 3
Game Table: No
Internet: Yes
Hot Tub: Yes
Luxury Cabin: Yes
Pet Friendly: Yes
Floors: 2
Refundable Deposit: $500.00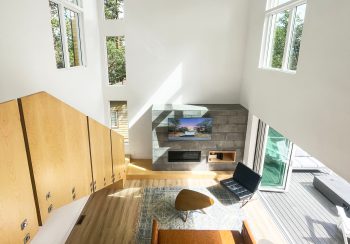 Welcome to Capanna 693, by taking our cabin giveaway survey you can spend 2 FREE nights in a stunning modernly designed cabin offering incredible views of the surrounding pines in Big Bear City. This home's luxurious amenities and interior were designed with luxury and comfort in mind to provide you with an incredible Big Bear experience. The open concept design and high vaulted ceiling open up the living space giving you plenty of room for you and your guests. Large windows bring in lots of natural lighting while providing you views of the surrounding scenery. Step inside the main living space and relax in front of the fireplace as you enjoy your favorite show on the mounted flat screen t.v. A leather chair provides additional seating for you and your guests. A large glass sliding door completely slides back opening up the entire side of the wall to the back deck making it one large space for you to enjoy. The large open concept kitchen gives you plenty of meal prep space to prepare delicious meals. Seating for three can be found at the kitchen island while additional seating for eight can be found at the dining table off to the side.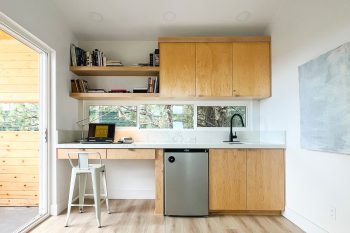 Step outside on the deck and enjoy views of the surrounding pine trees. Sit around the fire pit and roast marshmallows under the starry sky as you make memories with family and friends. Grill up some delicious steaks at the built in grill and island that also include a sink, making clean up simple. Rest and recover after a long day exploring BIg Bear as you soak in the hot tub and listen to the sounds of nature that surround you. We know laundry is not something you desire to be doing while on vacation but if the need should arise a full size stacked washer and dryer can be found right off the kitchen for your convenience.
When it's time to retire from your day full of adventure, head inside where you'll find three bedrooms waiting to provide you with the utmost comfort. The first bedroom is located on the main level and provides a queen size bed and a mounted flat screen t.v. The next two bedrooms are located upstairs and also provide queen size beds and mounted flatscreen tvs. You'll also find a kitchenette and access to the upstairs deck on this level.
Photos of Capanna 693 in the wintertime. Conveniently located just minutes from Bear Mountain Resort for skiing and snowboarding.
EXPLORE MORE DESTINATION BIG BEAR CABINS
Find a Cabin