Betty's Buggies
Betty's Buggies – A Big Bear Tour Guide Company in Big Bear Lake.
Big Bear's Only VW Buggy Tour Guide Company in Big Bear Lake
Looking for a fun outdoor adventure tour guide company in Big Bear Lake? Look no further than Betty's Buggies! They rent 60's and 70's style stick-shift and automatic Meyer's Manx VW Dune Buggies to guests. The guest drives and follows a guide buggy through a series of historical, picturesque, and fun local hot spots across the Big Bear Valley. From Lucky Baldwin Mine Shaft to cruising to the Big Bear Lake Dam, there are so many breathtaking stops along the way. Each 2-seater Stick Shift Buggy is built to be easy to drive so almost anyone can enjoy following our guides. You can also take a 4-Seater Automatic Buggy so the whole family can enjoy the views together. Rent multiple buggies and receive discounts on the 2nd, 3rd, and 4th Buggy rental!
Check out the Big Bear Jeep Experience
Find a Cabin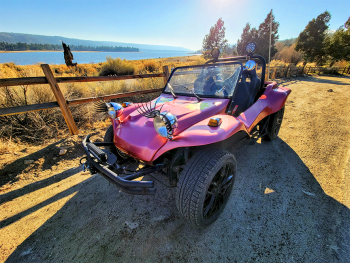 Fun Facts About The Buggies
A little know fact is Big Bear is one of the number 1 destinations for buggy owners to come visit! The Manx Club's largest gathering each year takes place in Big Bear in July. The natural terrain in the Big Bear Valley allows Manx owners to use our roads as a huge Buggy Playground! Not to mention, the open fresh air and views from a buggy is the best way to explore our Beautiful Valley!
Betty's Buggies is a Female Forward Company Managed and Operated by mostly women! The trail guides are friendly and knowledgeable locals with a passion for Buggies and Big Bear!
If you book your home rental with Destination Big Bear and Book your next adventure with Betty's you will receive a discount on your Buggy Rental! To redeem this exclusive discount:
Visit www.BettysBuggies.com and use CODE: dbb2022 at checkout!
Call (424)877-1187 For More Info!