4 Things-To-Know When Coming To Big Bear
Big Bear Lake is excited that we just got over 3 feet of snow! Are you planning on making the trip up the mountain? Here are 4 things to know when coming to Big Bear this weekend:
Road Conditions: Snow plow crews have been working tirelessly to clear the roads and driveways. 3 feet of snow in 2 days is a LOT of snow, as you can imagine. There may be delays in clearing driveways, berms and streets. Expect mixed road conditions with areas of ice, snow and slush. Freezing is possible when temperatures drop in the evenings making roads slick in areas. When chains are required, maximum speed is 30 miles per hour causing some traffic delays and you may find motorists along the side of the road.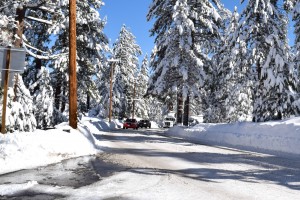 Power: The trees are not only beautiful when covered with snow, they can also be dangerous and cause power issues. The weight of the accumulated snow can easily break tree branches over power lines. The Big Bear Lake power company is working day and night to maintain electricity not only to resident homes, but also to cabin rentals. We ask that you keep this in mind should there be an issue during your stay. Power issues affect everyone.
Internet/Cable TV: Big Bear Lake is serviced by Charter. Not only can service be temperamental during dry, sunny days, snow and ice can wreck havoc on connections to homes. If your cable and internet connection goes down, please be patient. Residents and cabin rentals are both affected by service issues. You might want to consider making the most of your winter mountain getaway by "unplugging" and just enjoying the beautiful surroundings, light a fire and connect with family and friends.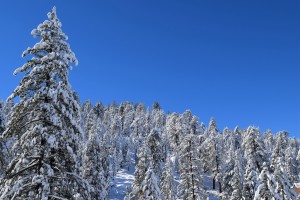 Safety: It is not only illegal, but it could also be deadly to venture out on to lake ice. The lake is NOT fully frozen over. Parking along the roads is not permitted when snow removal procedures are in place. Do NOT park along the side of the road unless it is an emergency. Use caution when walking avoid icy areas, do not run and use ice melt when necessary. Sledding is only permitted on national forest land or pay-to-play areas. Do NOT sled on private property, and please avoid trees and sledding into parking or traffic areas. Please remember to pick up any broken sled pieces and trash so we can keep Big Bear Lake beautiful for everyone.
Winter is a great time to visit Big Bear Lake and to make your trip even more enjoyable remember to have patience and to have fun! Destination Big Bear has cabin rentals close to Bear Mountain, Snow Summit and The Village. Book your winter getaway by calling (909) 752-0234. See you soon!