March and April Rates for 2021
As always if you have any questions about any information below, please text us back.  You can email us at rates@destinationbigbear.com or if you have broad questions not related to rates you can email us at homeowner@destinationbigbear.com
4/5/2021 – The Ski slopes are closing on 4/11,   Thank you to everyone for all the hard work – Employees and HomeOwners – What a challenging year!
We wanted to make sure all our homeowners know that Big Bear's record occupancy is coming to a halt.
April occupancy rates are actually lower than 2019 in the town.  We continue to examine every weekend's available homes for the next 120 days.  COVID numbers are slowing and we are seeing people take advantage and start going to other cities.  In short, Big Bear is not the only game in town anymore.  We are expecting to see very low interest in April and May.  These two months are generally the slowest months we have and this year they are going to be even slower.    Luckily,  the city is going to have fireworks on Memorial Day Monday this year which should produce higher rents than normal.
We have had record bookings and occupancy and it is a good idea to come up and enjoy your home this spring and see what might need to get done before our summer peak months start up.   Our Summer Bookings are actually considerably up from 2019 which is a great thing!!  Great time for spring cleaning, maintenance and improvements!
We are busy in all homes auditing and making repairs.   Things you might find when you come up due to heavy rents.
Dishware in different cupboards
Furniture moved around
Bedding on different beds
Slider screens left on during winter months may be bent due to ice and need adjusting.
We had over 300 tasks related to blinds in 2020.  Many homes may have blinds that are not operating as they should.
Outdoor areas will have debris.   A lot of times snow finally melts in areas that do not get much sun and debris appears 🙁
Plow mishaps,  dirt and rocks pushed up,  orange poles down, etc.
Many home owners are already spraying down decks, picking up pine needles and doing a quick cleanup.
Please be mindful we most likely will see one more snow storm,  we always seem to get a late slider 😉
3/11/2021 – Major influences on bookings especially last minute bookings.    #1 – Yesterday we received multiple phone calls from guests looking to cancel for this upcoming weekend due to the mountain selling out.  We were surprised that on 3/10 during a snowstorm we were not selling out as we normally do but then as guests called in asking if they could reschedule due to the mountain selling out lift tickets,  that answered our question 🙂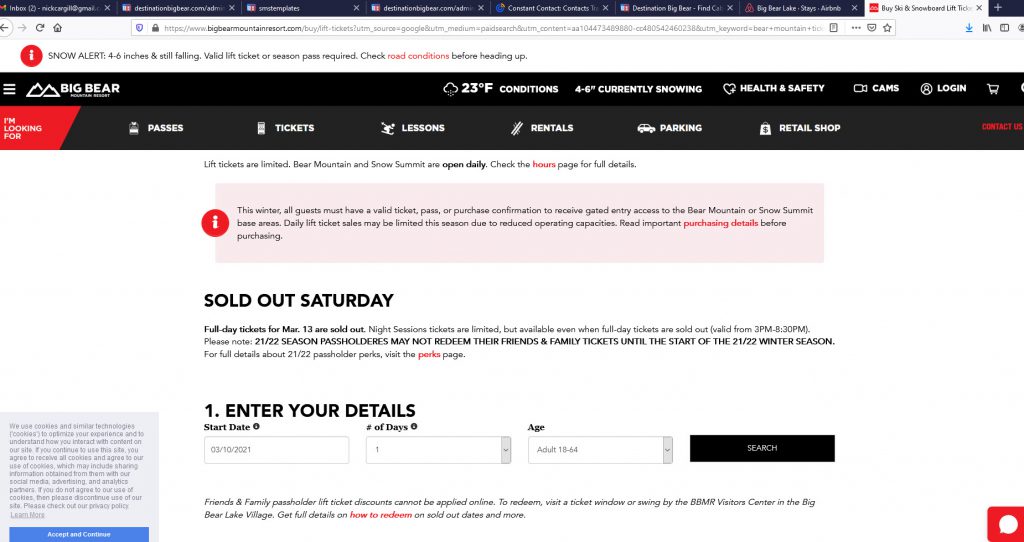 #2 – We also have received a few April cancellations this week because Disney has announced they are opening in April.    When we asked why the guest wanted to cancel they replied Disney is opening.  Disneyland Brings Fireworks Backs – Here is How to Get Tickets Click here
3/8/2021 – It has been a crazy year with COVID.    We might be nearing the end of the big rates and high occupancy.   Starting on the weekend of 2/26 the town was seeing a great deal of inventory not booked.   We had been running our March rates as the same prices as Winter Weekend; however we started putting a 30% discount on these rates for most homes since every weekend in March had very low occupancy.   30% discounts on Winter Weekend in most cases is still higher than last year's prices.
It has been a very warm late February / Early March with temps in the mid to high 50s.   We had hoped for a storm on 3/3 to bring us 4 inches but that did not happen.   There is another storm on the horizon this week – Check out Bensweather Forecast –  we are hoping.   The problem is that there is so much inventory not booked which has now caused most companies to cut their prices significantly.  We track 1469 units in town and if you look below Destination Big Bear is still running a better occupancy then other companies in town.  One of the problems we now face is two other large companies were only 30% booked this past weekend (oversight I would expect) and so they now have slashed prices for 3/12.   We will continue to look at prices every single day.  Please email us at rates@destinationbigbear.com if you wish to open a dialogue 🙂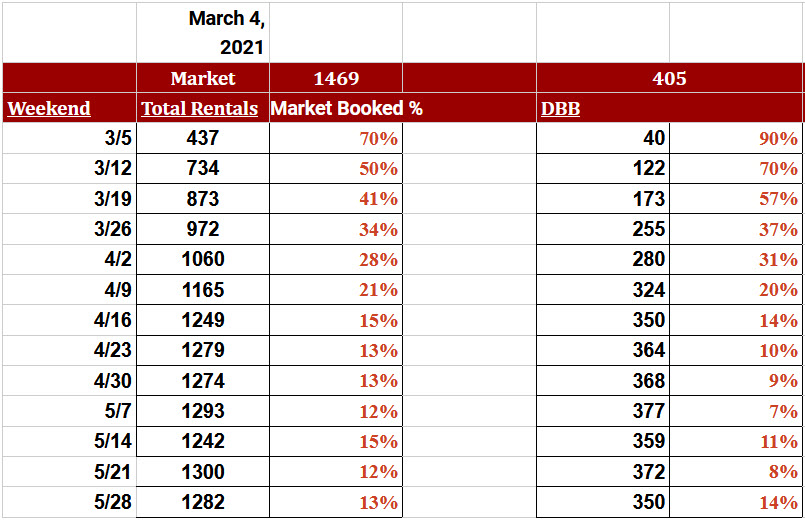 We advertise on all platforms,  send out emails / sms',  give cabins away and of course spend a great deal of $$ on Google.