Guttermouth at Big Bear Bar & Grill
Enjoy a night of good eats, good drinks, fun times with Great people and High Voltage Punk Rock Music! Guttermouth playing at Big Bear Bar & Grill. Guttermouth is an American punk band from 1988 in Huntington Beach CA. They have released nine full-length studio albums and two live albums and have toured all over. They have been often seen at the Vans Warped Tour. They are infamous for their outlandish lyrics, explicit behavior, and performing in a humorous and sarcastic way.
Playing alongside as openers for Guttermouth are local and Califorina Grown bands, The Line, No Concent, Since We Were Kids and The Gun Sharks! This show is a 21+ event and not kid friendly. Checkout more 21+ venues in Big Bear Lake! Supporting bands range from local talent to California grown bands from off the hill. This is Big Bear Bar & Grills first large concert show in their new performance room and will be one for the books!
Find a Cabin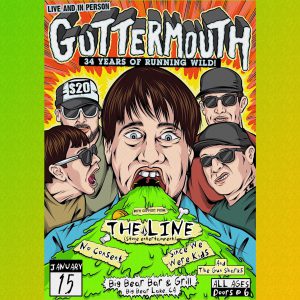 Guttermouth at Big Bear Bar & Grill- Show Line Up
Guttermouth, The Line, No Consent, Since We Were Kids & The Gun Sharks
Big Bear Bar & Grill
42165 Moonridge Blvd.
Big Bear Lake, CA 92315