Get Boards Equipment Rentals
Get Boards Equipment Rentals Shop is your one stop for all the year round rentals you need when visiting Big Bear Lake. This summer they are even giving a FREE 1 hour cruiser bike rental or single kayak rental to Destination Big Bear guests (1 per reservation) and they are offering a 15% discount when you book your Big Bear cabin rental. It can't be more convenient to rent from Getboards, either! They will bring your rentals to you when you rent a home from Destination Big Bear! They will deliver kayaks, stand up paddle boards and bikes to any cabin on the lake. Every equipment rental also comes with a free water bottle and a free map. To get the most out of beautiful Big Bear Lake, Getboards is even offering Kayak Tours which include breakfast. Whether you stay in a Big Bear cheap cabin rental, or a luxury cabin rental in Big Bear, they have the fun you are looking for.
If you want to stop by and see everything that GetBoards has to offer, they are directly across the street from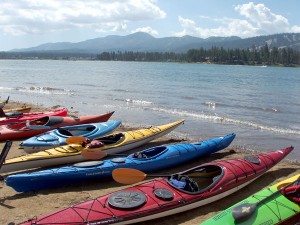 the lake, between the Big Bear Lake Village and Snow Summit Ski Resort at 40905 Big Bear Blvd., Big Bear Lake, CA 92315.You can check out their new website, with all the info you need, at www.BigBearLakeKayakRentals.com or go to www.getboards.com and click on rentals or ring them up at (909) 878-3155. GetBoards and Destination Big Bear…making your Big Bear getaway unforgettable!
To book your Destination Big Bear Cabin Rental, call (909) 752-0234. Destination Big Bear has cabins conveniently located near Bear Mountain Golf Course, Snow Summit, Big Bear Mountain, Big Bear Village, and Big Bear Lake. We have cabins for every budget from cheap cabin rentals to luxury cabin rentals. Ask about pet-friendly cabins and activities to do in Big Bear Lake.