FarSight Studios in Big Bear
Get your game on in Big Bear! FarSight Studios in Big Bear makes classic games come to life!  If you are looking for some video game fun in your cabin rental in Big Bear, why not play pinball on your iPad, iPhone, Adroid device or game system.  Pinball Arcade is one of FarSight Studios game developments and features exact digital replicas of real pinball tables, including some of the most popular ones in the world that you can experience, even if your Big Bear Lake vacation rental doesn't have a game room.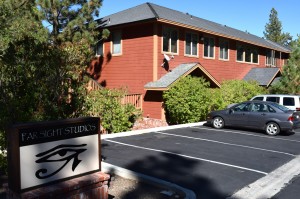 FarSight Studios was started by Big Bear Lake's own Mayor Jay Obernolte in his dorm room at Caltech in the late 80's.  He began with educational games for the original Nintendo system and moved on to recreational games for Sega for hardcore football fans.  After a vacation in Big Bear, Mayor Obernolte fell in love with the area and decided to make it his and FarSight Studios' home, starting the company in his own home in Fawnskin on the north side of Big Bear Lake. From there they opened an office in Summit Plaza, a short distance from Snow Summit, a popular skiing and snowboarding destination for cabin rentals in Big Bear.  They have since expanded to an 8,000 square foot space and house some of the most popular pinball tables of all time.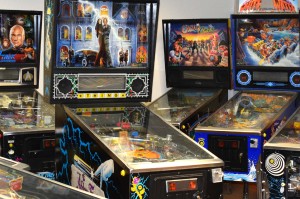 Backyard Football and Game Party are two of their most popular video games and others feature real motion tracking from NFL players.   Right now they are working on a game with Brunswick and pride themselves in staying true to life, going as far as to special order Brunswick bowling balls and participating in bowling league at the Bowling Barn in Big Bear Lake to really bring the bowling ally experience to the player and one of the many great places to have fun when staying at your vacation rental in Big Bear Lake.
If you want to travel back in time to afternoons spent at the pizza parlor, then check out Pinball Arcade.  Not only do the employees get to have fun, Vice President Bobby King is confident they also have some of the most talented game developers in the country.  They painstakingly take apart each pinball table to ensure the layout, artwork, music and motion is exactly like the real thing.  They have already released 51 tables, with Dracula being the most recent and are currently working on their Kickstarter campaign to make the most popular table of all time- The Adams Family.
Get ready to have fun in your vacation rental in Big Bear Lake and head over to farsightstudios.com or pinballarcade.com.  You can also experience several of their pinball tables through the App store with many available for free play.
Book your vacation rental in Big Bear Lake by calling (909) 752-0234 or visiting DestinationBigBear.com.  We have cabins close to The Village, Snow Summit, Bear Mountain and the lake. If you are looking for rustic cabin rentals in Big Bear, luxury cabin rentals with great views or pet-friendly cabins in Big Bear Lake, let our reservation specialists help you plan your perfect getaway. See for yourself why FarSight Studios made Big Bear Lake their home for fun!
written by Nanette Murray.
Nanette Murray moved to Big Bear Lake after vacationing from Los Angeles where she lived for 3 years.  Originally from the mid-west, she has lived in numerous cities including Dallas, TX, Minneapolis, MN and Seattle, WA.  In her spare time she enjoys hiking, yoga, baking and spending time with her family and adopted Chihuahua.