Bear Mountain Golf Course
When you think of Big Bear, think golf.  Dallas Goldsmith, Big Bear Lake's very own born and raised, PGA trained professional instructor will have you wanting to hit the links not only for the beautiful view, but also for his humble approach to the sport itself.
His love for the game began at the age of 13 when a friend's parents took them up to Bear Mountain Golf Course to hit a few balls.  A natural athlete and ski racer, he was shocked to discover golfing did not come easily to him.  Instead of giving up, his lack of skill motivated him to study the game.
"The person who motivated me the most was my former driver's ed instructor and high school coach, Jack Oksnee.  At the time I was between being a ski racer or wanting to play golf, and he was more motivating."
Dallas got his first job at Bear Mountain cleaning golf carts for $3 an hour.  At age 17 he participated in a tournament where Tiger Woods also happened to be playing, and scored his first and only hole-in-one so far.  Reno was where he turned pro due to the college golf team not allowing team members to have a job and participate at the same time.  He got a job at the local course, took the playing ability test, and began studying at the PGA's Golf Professional Training Program where he learned about the business side of the game.  From there he went to Palm Springs, one of California's most popular golfing destinations.  His career then moved him to San Francisco where he was the head pro at Presidio, one of the oldest courses on the West Coast and a National Landmark since 1962.  He never thought he would end up back in his home town of Big Bear Lake, California but returned to help out with the family shop in 2008 and became Bear Mountain Golf Course's Golf Pro and instructor.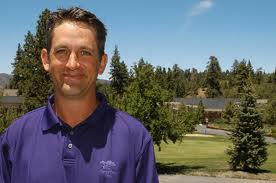 His teaching philosophy and focus is on bringing his student's skills up the next level, no matter what level they are starting at.  "The game of golf is an ongoing battle and changes day to day. The game will never be perfect and you have to learn to adapt and adjust.  It's not about the mistakes, it's about how you react to the mistakes."  His personal challenge is to practice what he preaches and to follow his own instructions.
Being a golf professional does have it's luxuries.  His favorite golf course he has played was Cypress Point near the famous Pebble Beach, but he says Bandon Dunes on the southern coast of Oregon is his favorite destination because of it's five Scotland inspired courses.  And speaking of Scotland? That is where he plans to celebrate his 40th birthday in September with a good friend after a quick game at Pine Valley, one of the top ranked courses in the United States located in New Jersey.  "We will be playing 18 courses in 14 days.  That is a lot of golf.  It might be too much, but I've been planning the trip for over a year and it's a place I have always wanted to go."
Golf isn't the only thing on his mind these days.  He and his wife of over 2 years will be welcoming their first child before his trip.  "Fatherhood is more exciting to me than golf.  My wife is very supportive and knows how much the Scotland trip means to me, and I am fortunate to have family nearby for support." He says he will let his daughter decide if she wants to play, and won't be forcing her into the sport.
His career dream is to design his own course.  He is a student of golf course architecture and has been studying course design as well as helping to update and maintain Bear Mountain Golf Course.  He says, "It's a way to be remembered forever."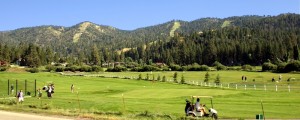 Dallas is available for lessons and even hosts free clinics for women to get more comfortable with the game and learning the techniques.  For more information, rates and packages contact Bear Mountain Golf Course at (909) 866-5766.
To book your Destination Big Bear Cabin Rental, call (909) 752-0234.  Destination Big Bear has cabins conveniently located near Bear Mountain Golf Course, Snow Summit, Big Bear Mountain, Big Bear Village, and Big Bear Lake.  We have cabins for every budget from cheap cabin rentals to luxury cabin rentals. Ask about pet friendly cabins and activities to do in Big Bear Lake.
written by Nanette Murray.
Nanette Murray moved to Big Bear Lake after vacationing from Los Angeles where she lived for 3 years.  Originally from the mid-west, she has lived in numerous cities including Dallas, TX, Minneapolis, MN and Seattle, WA.  In her spare time she enjoys hiking, yoga, baking and spending time with her family and adopted Chihuahua.