Algae in Big Bear Lake
Algae in Big Bear Lake | Destination Big Bear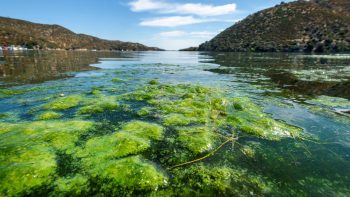 From the BBMWD –
"Blue-Green Algae is in fact not an algae at all, it is a bacteria (cyanobacteria). This type of bacteria is found in many lakes, ponds, and reservoirs across the world. They are usually present in low numbers, but can become very abundant in warm, shallow, undisturbed surface water that receives a lot of sunlight. When this occurs, they can form "blooms" that discolor the water or produce floating mats or scums on the surface. Although blue-green algae blooms can create nuisance conditions and undesirable water quality, most are not toxic.
INFO ABOUT Algae in Big Bear Lake | Destination Big Bear
What precautions should I take with the Algae in Big Bear Lake?
Follow all posted advisories.
Stay away from green looking algae and scum in the water and on shore.
Watch children and pets closely.
Do not let pets and other animals go into the water, drink the water, or eat scum and algal accumulations on the shore
Do not drink the water or use it for cooking.
Clean yourself, your family, and your pets with clean water after water play.
If you catch fish, throw away guts and clean fillets with tap water or bottled water before cooking.
Avoid eating shellfish from affected areas. (Crawdads are common along the shoreline.)
Swim in the open bays that have cleaner, bluer water. Algae tends to stick to the shoreline and shallower, warmer water.
Lastly, if you have any concerns, please call Big Bear Municipal Water District's main office at (909)866-5796 and be very cautious of using social media as your only source of information. Algae in Big Bear Lake | Destination Big Bear: Media outlets tend to over exaggerate the severity of these algae blooms to raise concern and detour lake use but rest assured, this is a hub for accurate, fact-based information.
Should this detour me from visiting the lake?
The only real time of concern is during hot summer months and if concerned, so swim another day or not at all. The District recommends that if the water looks questionable, simply look for cleaner, bluer water areas. If in doubt, stay out! If you believe you or your pet were in water of concern, feel free to wash yourself and/or pet off at our washing station at our East Public Launch Ramp facility or at home. Pets are more susceptible to algal cells that are ingested while trying to cool down on a hot summer day by taking a swim in the Lake. Some pets tend to drink large amounts of lake water while playing, or maybe they clean themselves off after a day out in the water. That's why it's always a good idea to rinse yourself and your pet off after getting in any body of water. Simply keep your pets away from the shoreline if algae is present.
Check Out Boat Rentals in Big Bear to Get away from the shore and into the clear!
For the latest updates and for another useful website to check accurate information CLICK LINK www.mywaterquality.ca.gov
We gathered some helpful information and provided it below for you from California Department of Water Resources
Where is it Safe to Swim?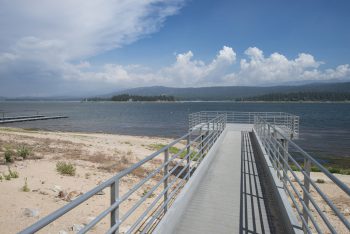 Try out areas closer to the Big Bear Lake Dam, where the water is much deeper and stirred up so the algae is less present. East Boat ramp is a very popular place to swim but tends to have shallow, warm water. This means Algae blooms are more likely to be present. Look at the surface, is there a green film or a build up of foam or scum? That indicates algae, detour from swimming in that area. West Boat Ramp on North Shore in Fawnskin is a better area and contains the least amount of Algae affected areas.
West Boat Ramp Address: West Public Launch Ramp (Duane Boyer), 38925 N Shore Dr, Fawnskin, CA 92333
MORE HELPFUL INFO ABOUT ALGAE BLOOMS
What are signs of Harmful Algal Blooms (HABs)?
Small blue-green, green, white, or brown particles in the water
Streaks in the water that look like spilled paint
Mats, scum, or foam at the surface or along the shoreline
Can have an odor described as gasoline, septic, or fishy
What are the Dangers of Algae in Big Bear Lake?
Some algal blooms can produce toxins that are harmful to people and pets
Dogs and small children are most likely to be affected by HABs due to their smaller body size and probability to play in the water for longer periods
Exposure to toxic cyanobacteria, can cause eye, nose, mouth or throat irritation, headache, allergic skin rash, mouth ulcers, vomiting, diarrhea, and cold- and flu-like symptoms
How can I be exposed to algal toxins?
People can be exposed to the toxins during swimming or other water contact and when they accidentally swallow lake water
During waterskiing and jetskiing, the toxins can become airborne and be inhaled
People can also be exposed to toxins by eating shellfish and fish from affected waterbodies
Dogs or other animals can become ill if they eat scum or mats in the water or on the shore, drink the water, or lick their fur after going into the water.