AMGEN Tour of California

The largest professional cycling race in North America is coming back to Big Bear!  The 12th edition AMGEN Tour of California will be rolling through the community for the 3rd time in it's history.  Big Bear is excited to host the time trials on Friday, May 19th.  Visitors and residents will get to cheer on individuals from around the world as they peddle their way through Stage 6 of this multi-day race through a series of 1-minute intervals along a 15 mile route through town.  This exciting special event will be broadcast on LIVE TV for the world to see.
The AMGEN Tour of California is a Tour de France style cycling road race that challenges the world's top professional teams made up of Olympic medalists, Tour de France contenders and world champions as they compete along a demanding 700+ mile course through California.
We invite everyone to come up and experience the festivities and stay in a Big Bear Lake vacation rental.  Many of our cabins will have a front row seat to the action, or you may wish to stay in a cabin rental away from the crowds and walk to the route to see all the fun.  NOTE: If you are coming up on Friday evening your weekend trip should not be impacted by the event.
The Village- Event Details
The Village is where all the fun is taking place!  See the start and finish lines, enjoy the Lifestyle Expo and Beer Garden, TV viewing area, follow the participants on the leaderboard, listen to music and more!  There will be Park-&-Ride locations set up at the Snow Summit Brownie lot and Big Bear Middle School so you can park your car and ride your bike or walk to where the action is with signed bike routes to the Village and race area.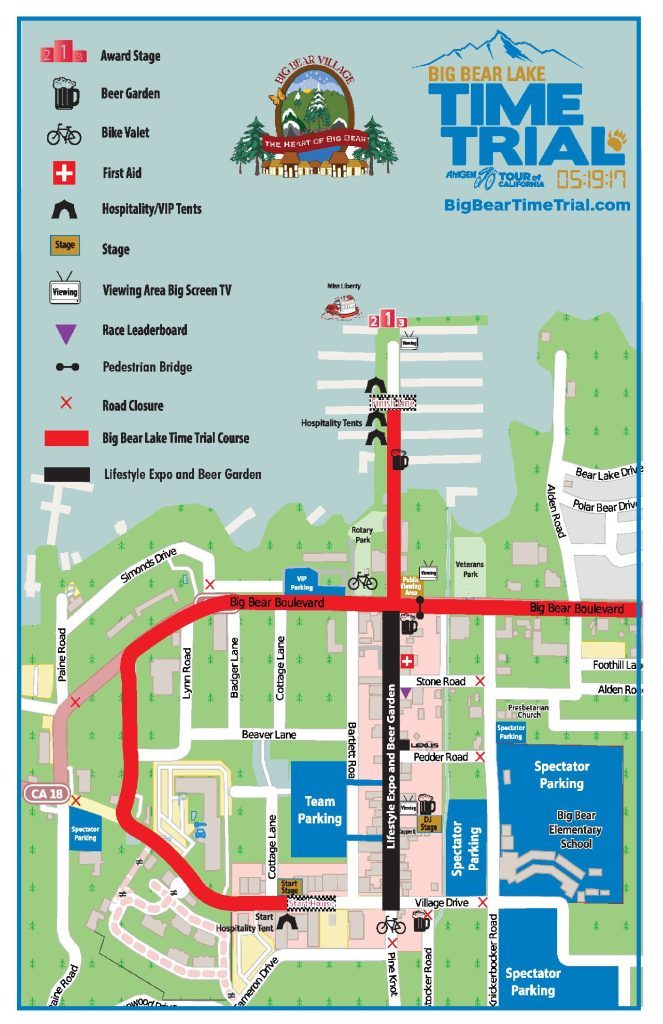 If you are planning on staying at a Big Bear Lake vacation rental during the AMGEN Tour of California, or you are a resident of Big Bear, there are a few road closures you should be aware of.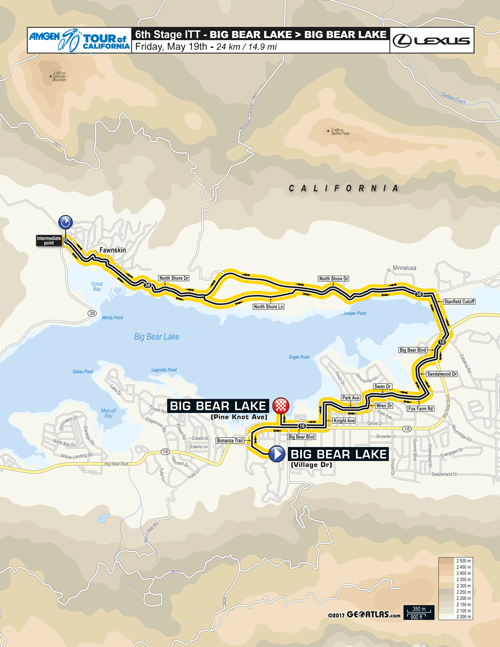 Road Closures:
All driveways, streets and parking lots with access to the race course will be closed with no exit or re-entry.  Detours and Exit-Only crossings (no re-entry) will be set up at various intervals.  Emergency vehicles will not be affected by road closures.  Businesses will remain open, however walking from an off-site location may be required.
Thursday, May 18th (10:00 a.m.)

Pine Knot Ave from Village Drive to Big Bear Blvd starting at 10:00 a.m.
Friday, May 19th (5:00 a.m. – 6:00 p.m.)
Village Drive, Pine Knot Ave, Big Bear Blvd (from Paine to Knickerbocker-detour available), Bonanza Trail (between Village Dr. and Big Bear Blvd), Bartlett Rd, Badger Ln, Cottage Ln, Lynn Rd, Croft Ln, Beaver St, Big Bear Blvd (north side only from Knickerbocker to Knight Ave), Pine Knot Ave. between the Pine Knot Marina and Big Bear Blvd, Big Bear Blvd between Pine Knot and Knickerbocker.
Friday, May 19th (9:00 a.m. – 5:00 p.m.)
Alden Rd, Knight Ave (between Big Bear Blvd and Park Ave), Park Ave (between Knight Ave and Swan Dr.), Swan Dr/Fox Farm (between Park Ave and Sandalwood Dr.), Sandalwood Dr (from Fox Farm to Big Bear Blvd), Big Bear Blvd (north side only from Sandalwood Dr to Stanfield Cutoff, Stanfield Cutoff, North Shore Drive (from Stanfield Cutoff and Fawnskin Triangle), North Shore Lane
Other closures:
Bear Valley Unified Schools, Big Bear Discovery Center, Pine Knot Marina, MWD East Boat Launch, and Captain John's Marina
For more information about the AMGEN Tour of California, visit their website at: https://www.amgentourofcalifornia.com
For local information visit: https://bigbeartimetrial.com
Big Bear Lake is honored to be hosting this world class event!  We hope you come stay with us and experience the excitement for yourself.  Let our experienced vacation experts know if you would like to stay in a cabin rental in Big Bear Lake close to the AMGEN Tour of California route.  We have luxury and budget friendly cabins close to The Village, the lake or far away from the action.  We hope to see you in Big Bear soon! Call (909) 752-0234 and book your Big Bear Lake cabin rental.